"Why haven't I heard of this?" That's what you're thinking, right? That's what exactly what went through my mind when I first read about this. Due to the influence of television and other mainstream media, I had always thought the cure for cancer was yet to be discovered, and the person who finds the cure will be famous and wealthy, but I did not realize how wrong and naive I was.
My heart aches when I hear that someone has cancer, and though I want to help, I am general outcasted by others for talking about this issue. Because of that, I hope that by writing this article, those with a passion to find truth and knowledge can be saved from the horrible pains awaiting those who currently believe cures are in horribly deadly radiation "therapies."
I am not a medical professional, nor does this article constitute medical advise. Research the referenced documents for yourself and make your own educated decision about your health and the health of your family.
chronic: continuing for a long time; constantly recurring
noncommunicable: not transmissible by direct contact
(See 'chronic' & 'noncommunicable' Merriam-Webster's Medical Dictionary, 2007 Merriam-Webster, Inc.)
Cancer is a chronic, noncommunicable disease. A chronic disease is a something that does not pass away with time. A common cold passes away over time, so it could not be labeled as a chronic illness. A noncommunicable disease cannot be passed on to someone else. A common cold can be passed on to other people, so it is a communicable disease, but cancer cannot be passed on through physical contact. Cancer matches both of the definitions above.
There are many other chronic, noncommunicable diseases in the world, and in all records of these diseases in mankind's history, the cure was not "invented," but discovered to be a deficiency in diet. Scurvy is a famous example of this type of disease.
Until the mid 1700s, scurvy was the "cancer" of the day. The British navy was losing many of its sailors to scurvy. In 1753, James Lind published a book explaining scurvy's cure was linked to citris fruits. Almost 200 years after the cure was discovered, Vitamin C was found to be the source of the cure.
(See James Lind, A Treatise on the Scurvy, 1753, London: A. Millar)
NOTE:
The cure was not discovered first by Lind, but it is a famous example. The cure had been discovered many times before and after his book.
(See Bradley S Buckler MD, Anjali Parish MD, "Scurvy" EMedicine; See also Jonathan Lamb, "Captain Cook and the Scourge of Scurvy," BBC British History, Nov 11, 2009 [www.bbc.co.uk])
A small list of chronic, noncommunicable diseases (
all foods listed MUST BE ORGANICALLY GROWN or they will not contain sufficient vitamin content
):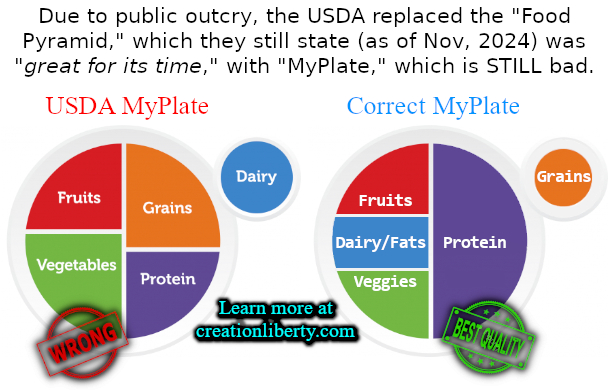 The cure for chronic, noncommunicable diseases was not invented chemically in a lab, nor by any other medical process. The cure for these diseases is not hidden in a chemical cocktail, but rather something we have removed from our diets that we were originally designed to have. These natural cures are referred to as "nutritional theropy."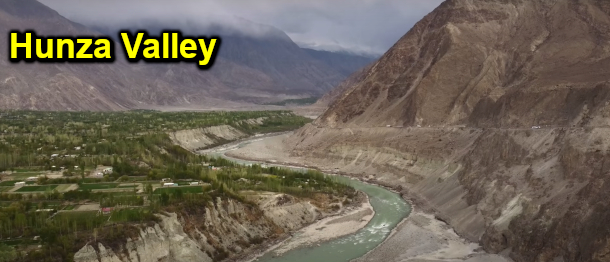 For example, when the average American gets a headache, they take an asprin. Was it the lack of an asprin that caused your headache? To answer that question, let's say you have a clunking noise in your car engine. You get concerned, and take it to a mechanic. He says he'll take care of the problem. You come back an hour later, and the mechanic says he fixed it by lining the inside of your hood with insallation so you won't hear the clunking noise anymore. Did he fix the problem? No, of course not, and you would be justified in anger that the mechanic was wasting your time and money.
Though we would not want a mechanic to mask the noise that lets us know there's a problem with our car engine, we still use drugs to mask the indicator of our brain to tell us when there is a problem in our bodies.
Headaches, skin rashes, dizziness, soreness of joints -- all of these are
symptons that indicate there is a problem in your body
, but we tend to mask the symptoms, instead of fixing the problem indicated. For example, if your fuel light comes on in your vehicle, it's letting you know there is a problem: you need more gasoline. So, you have two options:
1) You can fill up your tank with gasoline.
2) You can unplug the light so your car won't tell you about the problem.

Though it would be obviously foolish to unplug the light, our medicine cabinets are packed with drugs that "unplug lights." Taking an asprin only temporarily removes your headache. The headache will come back later because the cause of the symptom has not been resolved. Without these symptoms, we would not know when there was a problem, nor how to fix the source of the cause.
Before discovering the source of the problem for scurvy, it was a serious epidemic believed to lurk in the hulls of ships, but once the source of the symptoms was discovered, the cure was simple. Today, cancer is a serious epidemic believed to be lurking in the genes of 25-30% of the US population, but once understood, the cure is simple.
(For statistics, see Cancer Statistics, 2009, American Cancer Society, CA Cancer J Clin 2009; 59:225-249 doi: 10.3322/caac.20006)
And God said, Behold, I have given you every herb bearing seed, which is upon the face of all the earth, and every tree, in the which is the fruit of a tree yielding seed; to you it shall be for meat.
-Genesis 1:29
We are commanded to eat the seeds of the fruits and vegetables. Herbs and fruits are mentioned, and then seeds are mentioned twice. If something in the Bible is mentioned twice, it is done so for emphasis. Almost 100 years ago, a very important vitamin was found to be concentrated in the seeds of fruits and vegetables.
| | |
| --- | --- |
| | In the early 1900s, Dr. Ernst T. Krebs, a graduate phamacist and accredited physician in Nevada, was the first modern scientist to use an antibiotic in medicine by studying Washoe Indian herbal remedies. After finding a more efficient way to extract the healing properties of the plants, he created what is known today as "leptonin," and helped save almost a hundred of his patients suffering from bacterial disease. However, the Journal of American Medical Association ignored his findings, and the cure was not rediscovered until almost 30 years later. Finally, in 1953, scientists at the University of Utah School of Medicine published "Studies on Antibiotic Extract of Leptotaenia," admitting Dr. Krebs's findings were accurate. |
(See Journal of American Medical Association, Nov 1920, Vol. 75, No. 19, p. 1299; See also H. J. Carlson & H. G. Douglas, and H. D. Bissell, Journal of Bacteriology, May 1948, Vol. 55, p. 607-614; See also Antibiotics and Chemotherapy (3 (4) 393), 1953)
After the study of natural remedies for bacterial disease (and from study in the work of Professor John Beard, who linked cancer to enzymes), Dr. Krebs picked up an interest in studying cancer. He noticed the Washoe Indians, as well as other native tribes, did not have the same cancerous diseases that white men had. This prior experience led Dr. Krebs to look for a cure in natural foods and herbs.
This research was later completed by Krebs's son, Dr. Ernst T. Krebs Jr. (doctorate is honorary), who studied in anatomy and medicine at Hahnemann Medical College for three years, received his bachelor's degree in bacteriology from the University of Illinois, and did his graduate work at the University of Mississippi and the University of California. Dr. Krebs Jr picked up his father's (and Professor Beard's) research and made many discoveries, the most important of which was vitamin B17 (amygdaline), which is found most commonly in the seeds of fruits and vegetables. Krebs's discovery of B17 led him to develop a concentrated pill form called "laetrile."
Many people immediately object, claiming that one should not eat the seeds because they contain cyanide. It is correct they contain cyanide, but it is incorrect that they should not be consumed.
Oxygen, for example, will ignite a fire, as will hydrogen. It would be foolish to spray hydrogen and oxygen on to a fire, right? However, every fireman in the world does it. It's called H2O. The hydrogen and oxygen bond together and form a substance that is beneficial. Another example, chlorine gas is a deadly substance you would not want in your body, but when sodium is bonded with chlorine, it forms sodium chloride, more commonly known as "table salt."
B17 is two units of glucose (sugar), one of benzaldehyde, and one of cyanide. Many people know cyanide can be deadly, but in this state, the chemical components are inert and have no effect on the body. There is only one enzyme that can unlock the cyanide and benzaldehyde, and that is called beta-glucosidase.
Beta-glucosidase is like the key to unlock the toxic chemicals, and there is only one place in the body where enough can be found to unlock them: inside the cancer cell. The cancer cell contains hundreds of times more "keys" than any other cell in your body, and this attracts the B17. The benzaldehyde and cyanide combine to form a poisonous substance that destroys the cancer cell, and only at that location, but after the reaction, the toxic chemicals become harmless to your body.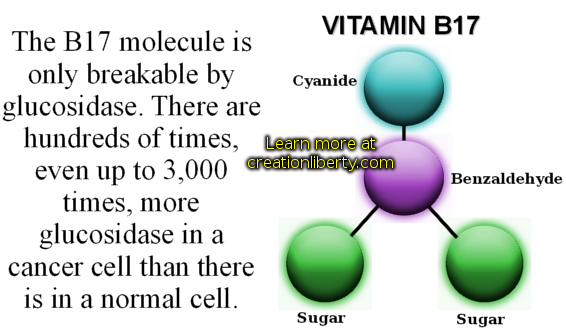 The natural question now is, what happens to the benzaldehyde and cyanide after they kill off the cancer cell? First, benzaldehyde will oxidize when it comes into contact with oxygen. The cancerous cells are mostly void of any oxygen, which has caused them to ferment and become dangerous to your body. Once the benzaldehyde comes in contact with a normal cell, it will oxidize, and be converted to benzoic acid, which is healthy for you. (
benzoic acid has antiseptic properties
) The cyanide will be broken down by a protecting enzyme called "rhodanese," which is found in large quantities all over your body. The only place rhodanese enzymes are not found are in cancer cells, which means they are unprotected and will be killed off. (
and that's good!
) The cyanide is then converted into cyanocobalamin, which becomes part of the B12 molecule. When taken in large quantities, cyanide and benzaldehyde can be deadly, but on a microscopic level within their bonded state, both of these substances are neutralized by your body's natural chemical defenses.
(See Dr. Ross Pelton & Dr. Lee Overholser, Alternatives in Cancer Therapy, 1994, p. 155, ISBN: 0-671-79623-2; See also G. Edward Griffin, World Without Cancer, 18th Edition, March 2006, p. 86-91, ISBN: 0-912986-19-0)
Though B17 is found in many grasses and herbs, scientists have found it is most highly concentrated in the seeds of fruits and vegetables. These findings back up God's instructions to man, but most people are still very skeptical because they are confused about why this would not be known to the world. We'll get to the reasons for the suppression of this knowledge later, but first let's look at some other evidences of the use of B17 in active diets.
1)
The animal is partaking in modern mankind's diet, whether it be a pet, zoo animal, or digging through trash.
2)
The animal is prevented from getting the nutrients it requires. For example, farmers' cows sometimes get cancer on the ears and tongue during the winter, but when the first fresh grasses of spring come up, their cancer disappears.
3)
The animal is effected by mankind's toxins and pollutions in its environment. For example, green sea turtles have been found in their habitat dead with cancer, but they were also swimming in toxic waters from pollutants.
(See Live Science, "Cancer Kills Wild Animals Too," June 24, 2009 [www.livescience.com]; See also Christine Lepisto, "Cancers Threaten Wild Animal Populations," June 24, 2009 [www.treehugger.com])
African lions are often portrayed on TV killing their prey and eating the meat, but rarely do they focus on the preditor's tendency to eat the high-nutrient-content organs (liver, heart, etc - which contain anti-cancer nutrients) before they eat the meat of their catch. Often, ferocious animals, like lions and tigers, tear through the flesh and meat to get the nutrients they need from the organs before they will feast on the rest, and not one of these animals, freshly killed in the wild, has ever been found with cancer.
(See EcoTravel Tourist Information [www.ecotravel.co.za], "African Lion Hunting Habits in South Africa," 2005; See also Missouri Departement of Conservation [mdc.mo.gov], "Wildlife Sightings - Mountain Lions," 2010)

Many people often think that lions only eat meat because of what they have seen on television, but this is simply not true. "Little Tyke" was a lioness used in many hollywood movies, and she absolutely refused to eat, or have anything to do with, meat. There was once a $1,000 reward offered for anyone who could trick Little Tyke into eating meat, and all people who tried failed. Lions, as well as other ferocious animals, are not "meat-only" creatures, but kill and eat their prey because they have to do so to survive, and they feast on those creatures organs that will give them the nutritional content they need to be healthy.
(See Georges H. Westbeau, Little Tyke: The True Story of a Gentle Vegetarian Lioness, Theosophical Publishing House, 1986, ISBN: 9780835606059)
The study of the Hunzakuts have shown that their elderly often live over 100 years old (
up to 120 in some cases
). The average age of death in the US, with all the advanced medical technology and saftey regulations, is 78, but the average age of death in Hunza is 85.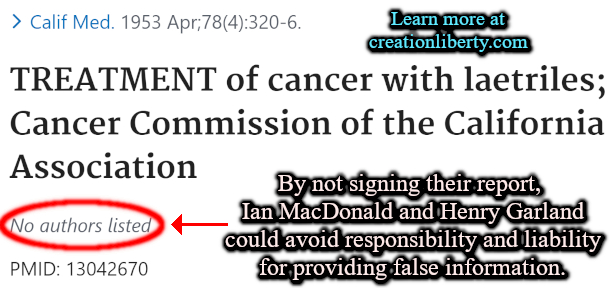 (Photo by Dr. J. Milton Hoffman; Taken from World Without Cancer, Second Edition, 1997, ISBN: 0-912986-19-0)
Whereas Americans typically suffer many painful conditions before dying (
and are usually dead a few years before their heart stops beating
), the Hunza elderly often die peacefully in their sleep. Though there are many interesting facts about the Hunzas, the one to note is there are no reported cases of cancer in their society.
(For details on ages, see Los Angeles Times, Interview with Prince Mohammed Ameen Khan, May 7, 1973, Part I-A; For life expectancy, see "Life Expectancy at Birth," The World Factbook, Central Intelligence Agency [www.cia.gov])
"The Hunza has no known incidence of cancer. They have... an abundant crop of apricots. These they dry in the sun and use very largely in their food."
-Dr. Robert McCarrison, Journal of The American Medical Association, Jan 7, 1922, Vol. 78, p. 1-8
Apricots are the primary source of wealth in the Hunza valley. If you
take the pit of the apricot, and break it open, there's a seed inside that looks like a nut.
The Hunzakuts eat these seeds often. It is common for the Hunza to eat a handful of apricot seeds as an afternoon snack, and are also used in a wide variety of ways.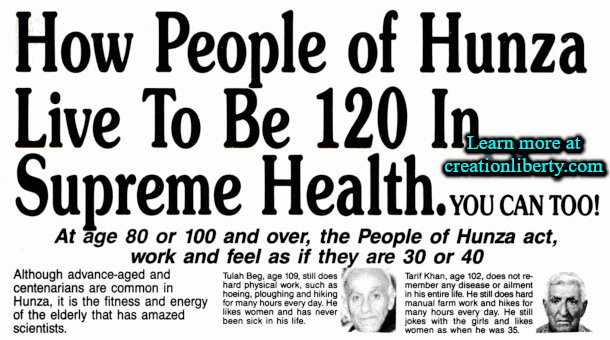 "My curiosity aroused, I asked, 'What do you do with the seeds you do not eat?'
The guide informed me that many are stored, but most of them are ground very fine and then squeezed under pressure to produce a very rich oil. 'This oil,' my guide claimed, 'looks much like olive oil. Sometimes we swallow a spoonful of it when we need it. On special days, we deep-fry our chappatis [bread] in it. On festival nights, our women use the oil to shine their hair. It makes a good rubbing compound for body bruises.'"
-Allen E. Banik & Renee Taylor, Hunza Land, 1960, Chapter 4, "Hunza Farming and Food," p. 123-124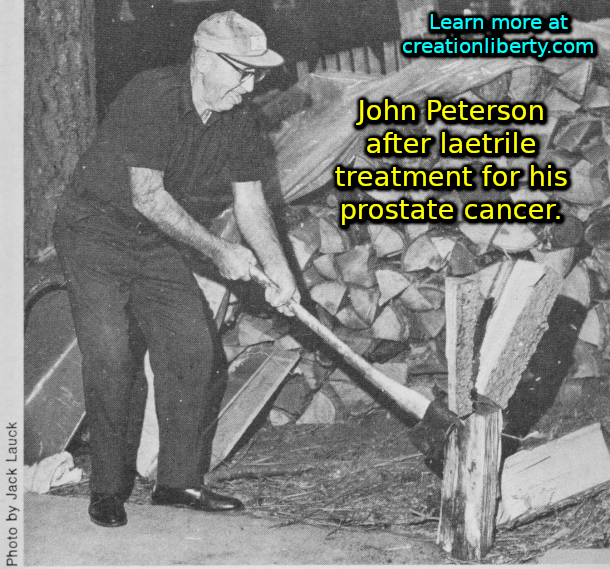 (Photo by Dr. J. Milton Hoffman; Taken from World Without Cancer, Second Edition, 1997, ISBN: 0-912986-19-0)
In the experiments done by Dr. Krebs and Dr. Krebs Jr., it was found that the apricot seed has the highest concentration of B17 of any other seed or herb in the world. The only known cases of cancer for the Hunzakuts, are those people that leave their secluded society, and start eating a modern diet void of important nutriets.
| | |
| --- | --- |
| | A man named Fred Gates invented a brilliant and deceptive "philanthropic" campaign method you may be familiar with. Gates had Mr. Pillsbury give $50,000 to the Owatonna Baptist Academy, on the condition that the baptist community raise an equal amount. Though half of the resulting $100,000 dollars in donated funds came from the community, the entire project was personally credited to Mr. Pillsbury, even though he did almost nothing. This process of "matching donations" is a public relations tactic to cover the malicious business practices of many monopolies today. |
(For more on the Rockefeller-Gates connection, see Jules Abels, The Rockefeller Billions: The Story of the World's Most Stupendous Fortune, published Macmillan, 1965)
Think about it for a moment, what benefits will Pillsbury receive for this tactic?
1)
Pillsbury gets full credit for a donated dollar amount at half the price.
2)
Pillsbury now has an entire community of hard-working, dedicated volunteers to raise half of the money at no cost.
3)
Pillsbury will get an enormous amount of free advertising. As volunteers go door-to-door asking for donations, the company name will have to be mentioned in their pitch as the "matching donator." Not only word of mouth advertising, but also physical banners will carry the company name, all at the cost of the public, rather than the corporation.
4)
Pillsbury will see a rise in sales. Often, if a consumer supports a certain non-profit organization, they will switch product brands to the company that donates to that organization.
Though donated money is always appreciated, remember the true purpose behind this money: Pillsbury not only wanted to see a rise in sales, but also a positive public approval of their company. Rockefeller, for example, during a time when his industry was despised and hated by the public, was advised to give away dimes to children in front of the camera as a way of improving his public self image. The goal is
NOT
to be charitable, but rather to
increase the positive view of the company in the public eye at the lowest possible cost.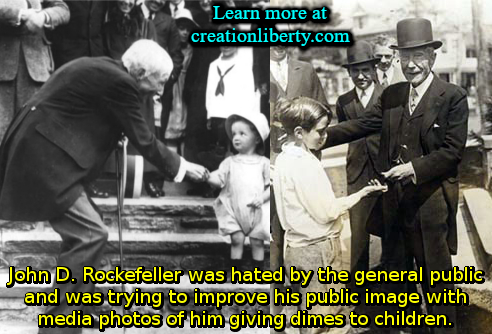 (Photo by Photoworld & U.P.I.; Taken from World Without Cancer, Second Edition, 1997, ISBN: 0-912986-19-0)
If anyone in this world needed to create a positive image, it was the Rockefeller industries, and Fred Gates's brilliant ruse caught the eye of John Rockafeller Sr:
"Fred Gates was a wonderful business man... Now I realized that I had met a commercial genius."
-John D. Rockefeller Sr., quoted by John K. Winkler, John D.-A Portrait in Oils, 1929, p. 177
These "philanthropic" methods soon expanded into large charity organizations, and many well-known organziations could be mentioned here, but to name one for example: The American Cancer Society. Please keep in mind, there are many good people that donate to the ACS, and a lot of volunteers that honestly think they are doing the right thing, but the men who rule over the organzation are corrupt to the core.
| | |
| --- | --- |
| The American Cancer Society was formed officially in 1913 at the Harvard Club in New York. The original board of directors were made up of men like Alfred P. Sloan (General Motors), Monroe Rathbone (Standard Oil), and Charles D. Hilles (AT&T). The ACS owns half the patent rights to certain "acceptable" cancer drugs. One of the drug patents is for 5FU (5 fluorouracil) which is manufactured by Hoffman-LaRoche Laboratories, which is within the I.G.-Rockefeller cartel. The true goal of these organizations, off the books, is for profit, not widespread charity. | |
"Many donors to the ACS would be outraged to learn that the organization has a vested interest in the sale of drugs and a financial tie-in with the drug industry."
-G. Edward Griffin, World Without Cancer, 18th Edition, March 2006, p. 258, ISBN 0-912986-19-0; For more details on the corporate corruption p. 211-226
Though that information may be shocking to some, most people to this day are still unaware of Rockefeller's vile takeover of the American medical schools. In 1890, the Baptist University of Chicago received $600,000 of donation, under the condition that they raise $400,000. (Rockefeller given full credit for the entire donation of course) Within a year after this donation, Rockefeller's chosen candidate, Dr. William Rainey Harper, was named president of the university. Within two years, all anti-Rockefeller teaching staff were removed, and replaced with those who would seek after John D. Rockefeller's ideals. After the school takeover, Rockefeller was praised by the staff, including one professor of economics, Dr. Gunton, who said that Rockefeller was "
superior in creative genius to Shakespeare, Homer and Dante.
"
(See Matthew Josephson, The Robber Barrons, 1934, p. 324, ISBN 0-15-676790-2)
This three-step pattern was repeated in all the major medical schools in the country.
1)
Get other people to pay a large percentage of the cost.
2)
Receive a positive public image boost.
3)
Gain control over the foundation of a school or organization, often times, putting one of Rockefeller's agents in a powerful seat on the board of directors.
I would very much like to give a lot more details and examples, but it would take many novels to write out an overview of the conspiracy and deception of cartels that rule over this country today. If you wish to investigate this further, here is some recommended reading:
*Dr. John Coleman, Conspirators' Hierarchy: The Story of the Committee of 300, 1992, ISBN 0-922356-57-2
*Dave Breese, 7 Men Who Rule the World from the Grave, 1990, ISBN 978-0-8024-8448-2
*Des Griffin, Fourth Reich of the Rich, 1976, ISBN 0-941380-06-8
The true cure for cancer remains hidden by a small minority at the top due to the paid influence and media pressure by corrupt medical and political figures attempting to look good in the public eye.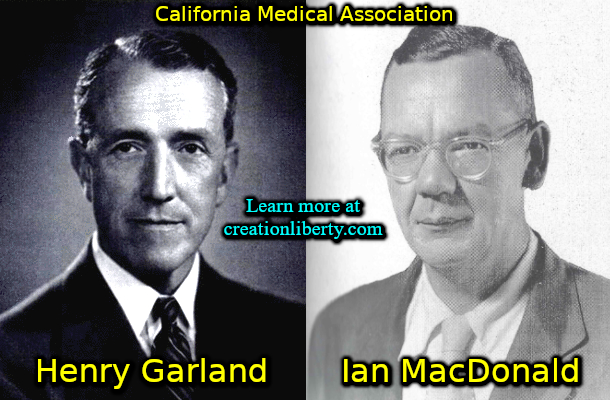 (Photos from L.A. County Medical Bulletin and San Francisco Medical Society; Taken from World Without Cancer, Second Edition, 1997, ISBN: 0-912986-19-0)
In 1953, only two men, Dr. E.M. McDonald [Left] (American Medical Association Committee Chairman) and Dr. Henry Garland [Right] (American Medical Association Committee Secretary), out of seven total in the AMA committee, published their suspiciously unsigned report of a State of California experiment on laetrile (the concentrated pill form of B17). Keep in mind, these two men did not personally do any experiments on, nor have any experience with, laetrile, they only reviewed documents from people that did.
(See "TREATMENT of cancer with laetriles; a report by the Cancer Commission of the California Medical Association", Calif Med, April, 1953; 78(4):320-6)
Garland and McDonald were also the same two men that coined a popular phrase back in the late 1950s: "
A pack a day keeps lung cancer away,
" and "
a harmless pastime up to twenty-four cigarettes per day.
" These phrases were in promotion of their false conclusions that smoking had no connection to lung cancer. Though not documented in this article, there has been much indication that these men were paid by tobacco companies at that time to give a false report due to the a large decrease in sales because of major public concern over lung cancer. Are we also to trust their conclusions on laetrile?
(See "Here's Another View: Tobacco May be Harmless," U.S. News & World Report, Aug 2, 1957, p. 85-86)
Still today, we see the similar deception in the general "health" industry. Coca-Cola, for example, has recently been approved by the ADA (American Dietetic Association) to provide a program to educate dietitians about food saftey. (even though Coca-Cola products in general are terrible for your health and diet) They are teaching our nation's dietary practitioners that artificial coloring, non-nutritive sweeteners, and other chemicals (like fluoride) have been "
carefully examined for their effects on children's health, growth, and development
." They are suggesting that dietitians help get rid of "
concern among parents about their children's health.
"
-Coca Cola: Beverage Institute for Health $ Wellness [www.beverageinstitute.org], "Children's Dietary Recommendations: When Urban Myths, Opinions, Parental Perceptions & Evidence Collide," retrieved July 16, 2011, [http://www.beverageinstitute.org/en_US/pages/webinar-childrensdietary-cpe.html]
However, according to the Alliance for Natural Health (a third party that does not have money ties to chemical companies):
"[Coca-Cola] Program materials include gems like '[a] majority of studies so far have not found a link between sugar and behavior in children generally or children diagnosed with attention deficit hyperactivity disorder.' This is certainly news to us, since we have seen many studies that say the opposite."
-Alliance for Natural Health [www.anh-usa.org], "Dietitians Are Buying Coke's Line: Sugar, Fluoride, Artificial Colors are SAFE for Children!," June 14, 2011, retrieved July 16, 2011, [http://www.anh-usa.org/dietitians-are-buying-cokes-line/]
For the love of money is the root of all evil: which while some coveted after, they have erred from the faith, and pierced themselves through with many sorrows.
-1 Timothy 6:10
Coca-cola wants to rid the public of health fears about their product because they will lose money. Cigarette companies want to rid the public of health fears because they would lose money. Pharmaceutical companies make a HUGE AMOUNT of money from cancer patients... you can logically work that out for yourselves.
(Read "The United Vacci-nations" for more details)
The 1953 California Medical Association report is the primary cited reference, and almost the entire extent of research, performed by most clinics and hospitals when looking at laetrile. Though these people have never had experience with laetrile, nor have even seen the results themselves, they, with a giant leap of faith in mankind, simply trust the "experts" to tell them what to do:
"Dr. Edwin Mirand of Roswell Memorial Hospital in Buffalo, N.Y. said: 'We've looked into it and found it has no value.' When asked if the renowned little hospital, which deals only with cancer, actually tested Laetrile, Dr. Mirand said, "No, we didn't feel it was necessary after others of good reputation had tested it and found had no effectiveness in the treatment of cancer.' He referred, as all authorities do, to the [1953] California Report."
-Tom Valentine, "Government is Suppressing Cancer Control," The National Tattler, March 11, 1973, p. 2
Another example:
"The cancer expert in question... told me that Laetrile was 'sugar pills.' Had he told me that he had used Laetrile experimentally on X number of patients and found it completely ineffective, I might have been impressed. But when I asked him whether he had ever used it himself, he said that he had not. When I asked him whether he had ever traveled abroad to study the experience with Laetrile therapy in Germany, Italy, Mexico, the Philippines, or other countries, he replied that he had not. And when I asked him if he had ever made a first-hand study of the pros and cons of the subject, again he conceded that he had not. He was simply repeating what he had heard from others who, in turn, were probably repeating what they had heard from others, going all the way back to the antiquated 1953 report of the California Cancer Commission."
-David Martin, Cancer News Journal, January/April, 1971, p. 22
In 1963, 10 years after the California report, the California State Department of Health adopted the 1953 California report as "true" and finally released all the original experiments to the public for the first time. After reviewing the original documents, they were found to contain positive feedback on the usefulness of laetrile, and showed that Garland and McDonald had purposefully lied about the results.
(See Dr. G. Schroetenboer & Dr. W. Wolman, "Report by Cancer Advisory Council on Treatment of Cancer with Beta-Cyanogenic Glucosides ("Laetriles")," California Department of Public Health, 1963, Appendix 4, p.1-2)
For example, Garland and McDonald stated clearly in their 1953 report, "
No evidence of cytotoxic changes was observed by any of the consultants.
" Yet the released records of 1963 state that multiple cases showed positive change.
Dec 15, 1952:
"Case 1M... Hemorrhagic necrosis of tumor is extensive... An interpretation of chemotherapeutic effect might be entertained."
(i.e. it's possible this has a healing effect, which means
Garland and McDonald lied
)
(See Dr. John W. Budd, "Report by Cancer Advisory Council on Treatment of Cancer with Beta-Cyanogenic Glucosides ("Laetriles")," California Department of Public Health, 1963, Appendix 3, p.1-2)
Sept 10, 1952:
"M-1... This might represent a chemical effect since the cells affected show coagulation necrosis and pyknosis."
"M-3... There appears to be more degeration in the tumor cells in the lymph node. I would consider this as a possible result of chemical agent."
"Two cases... Showed moderated changes... which might be considered as chemotherapeutic toxic cellular changes."
(See Dr. J. L. Zundell, "Report by Cancer Advisory Council on Treatment of Cancer with Beta-Cyanogenic Glucosides ("Laetriles")," California Department of Public Health, 1963, Appendix 3, p.1-2)
Garland and McDonald lied to cover up the findings. The only reason the results were not stronger was because the scientists at that time were carefully administering a substance they were not familiar with. They only used about 2% of what is needed to get optimum results. This Garland and McDonald report, though completely false and incomplete in experimentation, is still the primary source for laetrile research used by major medical facilaties today, but on page 3 of their report, they had to admit the facts:
"All of the physicians whose patients were reviewed spoke of increase in the sense of well-being and appetite, gain in weight, and decrease in pain..."
-Garland & McDonald report, quoted by John A. Richardson & Patricia Griffin, Laetrile Case Histories, published Bantam Books, 1977, p. 29, ISBN: 9780553114911
But in attempt to cover up these findings, they continued to say, "
... as though these observations constituted evidence of definite therapeutic effect.
" Though it is not definite, those observations do constitute further experimentation to verify the results, but instead, McDonald and Garland lied, costing millions their lives over the past few decades.
"After careful study of the liturature and other information available to it, the American Cancer Society does not have evidence that treatment with Laetrile results in objective benefit in the treatment of cancer in human beings."
-Unproven Methods of Cancer Management, New York: American Cancer Society, 1971, p. 139
I agree. The ACS doesn't have evidence. Does that mean evidence does not exist? Let's seek a second opinion.
"Laetrile appears to work against many forms of cancer including lung cancer. And it is absolutely non-toxic... tests with Ehrlich ascites carcinoma [a type of cancer] revealed that, where cyanide alone killed one percent of the cells and benzaldehyde alone killed twenty percent, a combination of the two was effective against all the cells. Amygdalin [B17/Laetrile] with glucosidase [the key to unlock the B17 molecule] added also succeeded in killing 100 percent of the ascites tumor cells, due to the freeing of the same two chemicals."
-Dr. Dean Burk, "Amygdalin Claimed Nontoxi Anti-Cancer Therapeutic Agent," Infectious Diseases, Seventh International Congress of Chemotherapy in Prague, Oct. 15, 1971, p. 1 & 23
"When we add Laetrile to a cancer culture under the microscope, providing the enzyme glucosidase also is present, we can see the cancer cells dying off like flies."
-Dr. Dean Burk, "Laetrile Ban May Be Lifted," Twin Circle, June 16, 1972, p. 11
Mrs. Joanne Wilkinson, mother of six from Walnut Creek, California, was diagnosed with cancer 1967. She had tumors effecting her left thigh, groin, hip, bladder, and kidney. Mrs. Wilkinson decided to go with Laetrile treatments. Her doctor, upset by her decision, warned her that if she did not have her left leg and part of her hip amputated soon, she would die within 12 weeks.

Here is Joanne's testimony of what happened next:
"Dr. Krebs [referring to Byron Krebs, M.D., brother of E.T. Krebs Jr.] gave me an injection of Laetrile - and the tumor reacted. It got very large - from walnut size to the size of a small lemon - and there was bleeding four or five days. I went back on Monday, Wednesday, and Friday each week for five weeks to get injections, and the tumor then started getting smaller. Five weeks later I could no longer feel it..."
(Joanne Wilkinson photo by G. Edward Griffin; Taken from World Without Cancer, Second Edition, 1997, ISBN: 0-912986-19-0)
"... An X-ray was taken the first Monday, and regularly after that to watch the progress. Injections were continued for six months - ten cc's three times a week and of course the diet: No dairy products nothing made with white flour - no eggs - but white fish, chicken, turkey.
And I felt wonderful! In fact, in August, 1969, the doctor told me I needed no more injections. My X-rays were clear, showing that the tumor had shrunk, was apparently encased in scar tissue, and was not active."
-"Laetrile - An Answer to Cancer?," Prevention, Dec, 1971, p. 172-175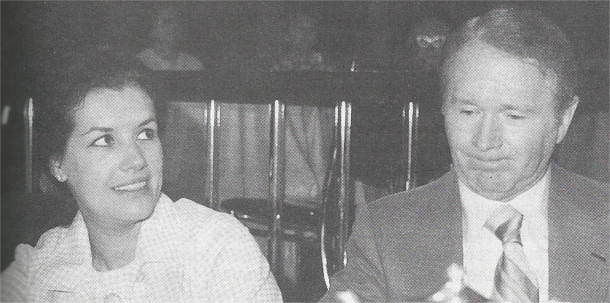 (Red & Alicia Buttons photo by The Tattler; Taken from World Without Cancer, Second Edition, 1997, ISBN: 0-912986-19-0)
Red Buttons, famous comedian and actor, says his wife, Alicia, was saved by laetrile:
"Laetrile saved Alicia from cancer. Doctors here in the U.S. gave her only a few months to live last November. But now she is alive and well, a beautiful and vital wife and mother, thanks to God and to those wonderful men who have the courage to stand up for their science."
-Red Buttons, "Comedian Red Buttons Says 'Laetrile Saved My Wife From Death By Cancer,'" The National Tattler, Aug. 19, 1973, p. 5
"Dear Dr. Krebs,
Thank you for giving me another birthday (May 17). Please, again, remember November 15th, 1979, when my doctor and four other urologists gave me a maximum of four months to live with my prostate cancer, and they set up appointments for radiation and chemotherapy, which I knew would kill me if the cancer didn't, and refused their treatment. Then on Sunday afternoon I contacted you by telephone and went with your simple program.
I am 71 years old and am in my 13th year [of survival] Three of the four urologists have died with prostate cancer, and forty or fifty people are alive today, and doing very well, because they followed my "Krebs" simple program.
Thanks for giving me back my life. Your friend,
H.M. 'Bud' Robinson"
-Letter from Bud Robinson to Ernst T. Krebs, Jr., May 18, 1992
But the American Cancer Society doesn't have the evidence. Why not? It seems someone in charge does not
WANT
to have the evidence because today, with the connection of the internet, there are thousands of such testimonies showing positive healing results.
In 1972, an extensive research program on laetrile was conducted at Sloan-Kettering Cancer Center in Manhattan under Dr. Kanematsu Sugiura, a highly respected senior laboratory researcher with over 60 years experience.
| | |
| --- | --- |
| | "The results clearly show that Amygdalin significantly inhibits the appearance of lung metastasis in mice bearing spontaneous mammary tumors and increases significantly the inhibition of the growth of the primary tumors... Laetrile also seemed to prevent slightly the appearance of new tumors... The improvement of health and appearance of the treated animals in comparison to controls is always a common observation... Dr. Sugiura has never observed complete regression of these tumors in all his cosmic experience with other chemotherapeutic agents." |
-"A Summary of the Effect of Amygdalin Upon Spontaneous Mammary Tumors in Mice," Sloan-Kettering report, June 13, 1973; Photo by Peter Chowka; Taken from World Without Cancer, Second Edition, 1997, ISBN: 0-912986-19-0
From this report, we can see six conclusions:
1)
Laetrile stopped the spreading of cancer.
2)
Laetrile improved general health.
3)
Laetrile inhibited the growth of tumors.
4)
Laetrile provided relief from pain.
5)
Laetrile acted as a cancer prevention.
6)
Dr. Sugiura had never witnessed these results in any other method.
In 1976, an Israeli group of physicians did research on the results of laetrile at the clinics in the US and Mexico. When they returned, Dr. David Rubin, Surgeon and Cancer Researcher at Hadassah Hospital in Jerusalem drafted their report to the Israeli Ministry of Health. Here is the conclucion of that report:
"a. Contrary to many allegations in both the scientific and lay liturature, laetrile is not quackery.
b. Laetrile is non-tox even in very large doses.
c. Laetrile has a definite palliative [relief] effect. We cannot, at this stage of our investigations, say that it inhibits tumors, but the evidence we have suggests that it does. We must do controlled studies to rule out the possibility that prior therapies had some effect on the turmors that stopped growing. However, we doubt that the regressions we observed were due to "delayed effects" of other therapies because, in our experience, such delayed effects rarely, if ever, occur."
-Dr. David Rubin, M.D., "Use of Laetrile in the Prevention and Treatment of Cancer," Report #2, Oct 25, 1976
But the ACS says:
"For twenty years, we have asked the proponents of Laetrile for scientific documentation of efficacy, but it has not been forthcoming."
-Cancer Journal for Clinicians, American Cancer Society, Jan/Feb, 1976, Vol. 26, No. 1, p. 52
Though hard for some to believe, some people at the American Cancer Society, and other such sources, must be purposefully lying to keep this quiet. I believe that most of the people who work for the ACS are honest people who genuinely think they are helping others. However, we can see from the above documention that some people have been squelching the truth.
"Spokesmen for orthodox medicine - and particularly for the American Cancer Society - continue to cloak themselves in the mantle of their own prestige, deride any scientific opinion that differes from their own, and categorically denounce as absurd those things which they do not understand. Laetrile is the current victim of such scientific arrogance and ignorance."
-John A. Richardson, M.D., Laetrile Case Histories, 2005, p. 34, ISBN: 978-0-912986-38-8
He's a criminal, and must have done something wrong.
" That is the normal thought process, and in many cases, it could be true. Historically, there have been many people wrongfully accused of a crime they did not commit, and though they were taken away in a police car, that doesn't mean they are guilty.
| | |
| --- | --- |
| This man was arrested for his realistic costume at a themed convention. He did nothing wrong. | |
(See Kristin Hanes, "Zombie Outfit Lands Man in Handcuffs," KOMO News, May 29, 2009, retrieved May 10, 2011, [komonews.com])
Accusation of guilt by simply seeing someone arrested on television is called "trial by media," which creates a majority opinion of guilt, and not real guilt. This is not a recently developed tactic, but has been used for thousands of years by many governments. For example, the Catholic Church, for 605 years of The Inquisition, tortured and murdered protestant Christians for their faith in Jesus Christ and the Holy Scriptures. Many of these Christians were handcuffed, and taken away by the "authorities," to be publically displayed and labeled heretics. They committed no crime, nor were allowed to give a response, but were used to make an example to the public, similar to how a school bully makes an example of a child who cannot defend himself.
(See "Corruptions of Christianity: Woman Rides the Beast" for more details; See also John Foxe, Foxe's Book of Martyrs, W. Grinton Berry Edition, 2003, ISBN: 0-8007-8664-5)
Public examples are still common today, and though we could give examples of this type of bullying and deception for many areas of research, laetrile clinics specifically have been hit hard and fast by the government enforcers. Dr. Maurice Kowan was healing many cancer patients in his clinic, but was arrested and put on trial for the "crime" of using laetrile as a cancer control.
During Dr. Kowan's trial, the jury was not allowed to see any of the clinics results that laetrile was curing the cancer patients, but instead was railroaded into a guilty verdict. Ira Reiner, the prosecuting attorney, faced the jury and stated:
"This is not a kindly old man. This is the most thoroughly evil person the imagination can concoct. He's taking advantage of people for money. We can understand people who kill in rage. What do you think of a man who can kill at nine dollars per visit?... This man has to be stopped. He is very dangerous. This case goes far beyond the walls of this courtroom. The way to stop him is a guilty verdict."
-"Kowan Trial Nearing End in City Court," L.A. News-Herald and Journal, July 23, 1967
These verdicts, public humilation, and media pressure are the ways the drug companies silence treatments that work. While the public remains ignorant of the truth, the American Cancer Society turns around and tells the public that chemotherapy is a "proven" cure.
"There are proven cures... surgery and/or radiation and, more and more, chemotherapy is playing a part."
-Letter from Mabel Burnett, American Cancer Society Headquarters, to Dr. John Richardson, Dec 18, 1972
A treatment with a 98% mortality rate (meaning that 49 out of 50 people will die from the radiation therapy) is considered to be proven, while a great number of people will go on record that laetrile saved their life.
(For testimony, see John A. Richardson, M.D., Laetrile Case Histories, 2005, ISBN: 978-0-912986-38-8; For details on chemotherapy death rate statistics, and how the real results are kept quiet, see Dr. Ralph Moss, Questioning Chemotherapy, 1995, ISBN: 978-1881025252)
While there are no laws that ban the use of laetrile, there are "regulations" set by the American Medical Association and the Federal Drug Administration that prohibit its use for the treatment of cancer in the United States. Simply because they put regulations on it, the people then fear laetrile, and retaliation from government bureaucracy. This is simply trial by media, and the people continue to believe that large money-making organizations have the peoples' best interests at heart.
Let's imagine for a moment you are a medical doctor. You studied for 8 years in a college that put you in $100,000+ in debt and trained you in pharmaceuticals. You have had your own practice for years, and are now a trusted source for medical advise by your community and your peers. You have come to trust the American Medical Association's recommendations, and believe they do wonderful, life-saving work. You believe that the cure for cancer is still a mystery to modernized medical science.
| | |
| --- | --- |
| | I, without degree, nor your same extensive medical research experience, come to you and say I know of the cure for cancer, and it's growing on a tree in my backyard. How inclined are you to believe me at this point? You would simply laugh at me, and ignore my words. |
Please don't take this the wrong way: There are many wonderful physicians out there who do great work and save lives, but the grand majority today have been brainwashed so deep into pharmaceuticals, the average house-wives of those physcians know more about health and nutrional care than their husbands.
(See "The United Vacci-Nations" for details on the focus of drugs and pharmaceuticals, rather than health and well-being)
Some points to conisider about the doctor's thought process:
1) Arrogance.
Most doctors would laugh, and do so thinking, "This ignorant person could not know something I don't know." It is good to be skeptical of some of the dumb things put out by the wackos in the world, but to not even listen or research is very bad.
Some doctors may listen to you, and go look up research on the B17/Laetrile topic. They'll go to their trusted source: The American Cancer Society. In their cancer journals, they have many paragraphs of articles with lots of references on different experiments, including high-dose vitamin C, shark cartilage, and even psychotherapy. However, when they come to laetrile, they will find only one paragraph that basically says it doesn't work, with only one reference that excludes any positive successful experiments done.
(See Andrew Vickers, A Cancer Journal for Clinicians, "Alternative Cancer Cures: Unproven or Disproven?" American Cancer Society, 2004;54;110-118 [http://caonline.amcancersoc.org/cgi/content/full/54/2/110])
This will be the first and final word the physician will take on the matter because, in his mind, there is no way someone in the ACS would not have seen this cure. He's right. There is no way someone would not have seen it, but there is a way some people will not talk about it.
2) Pride.
Some doctors are very open for discussion, but they are far and few between because, again, in their minds, it would not be possible that someone without all the rigorous training they have endured could find a cure that a doctor could not see. Some doctors will refuse to believe anything they have not personally discovered, even if it works.
3) Fear.
What if it were true? What if the cure for cancer has been known for 100 years and the physician has been sending people to their deaths through painful radiation? What if the doctor is partially responsible for his dead patients?
There is a heavy burden of blame the rioting mobs would place on doctors if the public were ever find out the truth, and therefore many modern physicians will squelch any "unapproved" cure to protect themselves. They think if they can just "not know," then they won't have to lie or feel bad. This places their own life before the lives of others, and keep in mind, this is a logical reaction if one believes in evolution. If there is no God, or they make up a petty and cruel god that would use evolution, isn't this just survival of the fittest? After all, if there is no Divine Being to answer to when we're gone, shouldn't we do what is most beneficial for ourselves and let others fend for themselves?
Which leads us to the last point...
4) Coveting.
Mercedes are expensive, and someone has to pay the bill. Most people don't realize that doctors make money from the pharmaceuticals they prescribe. Which drug is suggested that you take can be very well decided not always by what illness you have, but by how much money is profited from it. It is not always pleasant to think of our physicians in this way, and I know some doctors who would cringe at the thought of a fellow physician doing something like that, but in reality, it happens because doctors are trained primarily for drug theropy due to the takeover of American medical schools by the I.G.-Rockefeller pharmaceutical cartel.
All of us, daily, are susceptable to these sinful ways, and I believe these medical doctors, for the most part, are good people trying to do what they were taught was right, but what they were taught, and what is right, is not always the same thing. The willful ignorance and close-mindedness of modern medicine is staggering.
PRACTICING
medicine for a reason." It is beneficial to seek advice from a medical professional, but that doesn't mean he will be right in every case. We need to do what the Bible tells us to do:
Prove all things; hold fast that which is good.
1 Timothy 5:21
If you have a serious medical problem, go see a doctor, but also do some research and use your common sense. Will you trust the lives of your family completely in the hands of a stranger? Those doctors may give you some good advice, but we need not just take someone's word for it, even if they have had ten years of college education. A college professor once said, "Beware the sound of one hand clapping." That means, if there's an argument for one position, there is a counter-argument for another position. Study. Read boths sides and testimonies without bias, and make an truly educated decision, as the Word of God instructs us.
Study to shew thyself approved unto God, a workman that needeth not to be ashamed, rightly dividing the word of truth.
2 Timothy 2:15
I think we need less "medical professionals" in this country, and more real men who will do the right thing and stand up for the truth on the foundation of Jesus Christ.
---
I encourage you to continue to study and do your own research in this area. Here are some suggested reading materials to help you get started:
World Without Cancer
, G. Edward Griffin
American Media, 1997, ISBN: 9780912986197
Laetrile Case Histories
, Dr. John A. Richardson & Patricia Griffin
Bantam Books, 1977, ISBN: 9780553114911
The Little Cyanide Cookbook: Delicious Recipes Rich in Vitamin B17
, June De Spain
American Media, 2000, ISBN: 9780912986371