Over the years, I've produced articles that have exposed so-called "Christians" like
Rick Warren
,
Billy Graham
,
Michael W. Smith
,
Joyce Meyer
, and many others who have taught (and continue to teach) that to be saved, one must simply "accept Jesus." In fact, in every church and ministry in which I've seen that doctrine taught, I've found many other false doctrines and a lot of leaven to go along with it, and in this teaching, we're going to find out why that tends to be the case. I encourage every reader to do the research for yourself by taking the Scripture I'm going to provide in this article, checking out the context, and consider this topic as a serious matter because
millions of false converts are being brought into leavened churches by false teaching on the issue of Salvation through Jesus Christ.
First, we need to lay a proper foundation to understand the Biblical definitions of 'repent', and I used the word 'definitions' plural on purpose. Repentance, as most of you have heard, is typically taught to mean "to turn" or "to change one's mind," and even false teachers out there argue amongst themselves over its definition.
For example, the worldly
About.com - Religion
website tells readers:
"Repentance in Christianity means a sincere turning away, in both the mind and heart, from self to God. It involves a change of mind that leads to action--the turning away from a sinful course to God."
-Jack Zavada, "Repentance: What Is Repentance in Christianity," About.com,Apr 13, 2016, retrieved June 20, 2016, [christianity.about.com/od/glossary/a/Repentance.htm]
The deceptive, leavened
GotQuestions.org
disagrees with
About.com
, and tells readers:
"Many understand the term repentance (from the Greek word metanoia) to mean 'turning from sin.' This is not the biblical definition of repentance. In the Bible, the word repent means 'to change oneís mind.'"
-Michael Houdmann, "What is repentance and is it necessary for salvation?" Got Questions, retrieved June 20, 2016, [gotquestions.org/repentance.html]
The reason Christians end up getting confused on the issue of repentance is that the word repent is always treated like a "one-trick pony," or in other words, they believe that repentance only has one definition.
The problem is that these authors are both correct and incorrect at the same time.
It is rarely taught that 'repent' has a variety of definitions, and is used in a variety of ways in Scripture.
repent (v): 1. To feel pain, sorrow or regret for something done or spoken; as, to repent that we have lost much time in idleness or sensual pleasure; to repent that we have injured or wounded the feelings of a friend. A person repents only of what he himself has done or said.
2. To express sorrow for something past.
3. To change the mind in consequence of the inconvenience or injury done by past conduct. (Exd 13:17)
4. Applied to the Supreme Being, to change the course of providential dealings. (Gen 6:7, Psa 106:45)
5. In theology, to sorrow or be pained for sin, as a violation of God's holy law, a dishonor to his character and government, and the foulest ingratitude to a Being of infinite benevolence. (Luke 13:3, Acts 3:19)
6. To remember with sorrow; as, to repent rash words; to repent an injury done to a neighbor; to repent follies and vices.
(See 'repent', American Dictionary of the English Language, Noah Webster, 1828, retrieved July 3, 2014 [webstersdictionary1828.com])
The word "repent" can also be used in adjective format to mean "creeping," and it has even been used in
Jeremiah 8:6
as a reciprocal pronoun that alludes to "thought and consideration for wrong-doing." When ignorant preachers teach that repentance only has one definition, then Chrisitians end up reading the Bible's use of 'repent' with the preacher's definition in their mind, instead of looking to the context of Bible for the Lord God to define His own words for us.
The word 'repent' CAN mean to "to turn,"
but it does NOT always mean "to turn."
| | |
| --- | --- |
| | We will get to the Bible's specific use of repentance in a moment, but to help us further understand the deception, I will refer to a teaching on repentance by a man named Steven Anderson. Although he claims to be, Steven Anderson is NOT a Christian, and he is one of the most hate-filling, warmongering preachers I've ever seen. In his teaching on repentance, he makes the claim that the words 'repent' or 'repentance' are not found in the book of John (which is true as far as I'm aware), and therefore, repentance has nothing to do with the Salvation of Christ. |
(See Steven L. Anderson, "False Repentance Doctrine Exposed," retrieved Dec 13, 2012, [http://www.youtube.com/watch?v=z1ybsy9LdEc])
In his teaching, Anderson repeatedly tells listeners that all they need to do is believe on Jesus and that's it; they go to heaven. He quotes the following passages of John to back up his claims:
But as many as received him, to them gave he power to become the sons of God, even to them that believe on his name:
-John 1:12

That whosoever believeth in him should not perish, but have eternal life. For God so loved the world, that he gave his only begotten Son, that whosoever believeth in him should not perish, but have everlasting life.
-John 3:15-16

He that believeth on him is not condemned: but he that believeth not is condemned already, because he hath not believed in the name of the only begotten Son of God.
-John 3:18

He that believeth on the Son hath everlasting life: and he that believeth not the Son shall not see life; but the wrath of God abideth on him.
-John 3:36

Verily, verily, I say unto you, He that heareth my word, and believeth on him that sent me, hath everlasting life, and shall not come into condemnation; but is passed from death unto life.
-John 5:24

And this is the will of him that sent me, that every one which seeth the Son, and believeth on him, may have everlasting life: and I will raise him up at the last day.
-John 6:40
If I didn't write anything else besides these verses, and you didn't bother to check out any other Scripture, you might walk away thinking that repentance has nothing to do with salvation. However, the Lord God has instructed us on how His Word should be read:
Whom shall he teach knowledge? and whom shall he make to understand doctrine? them that are weaned from the milk, and drawn from the breasts. For precept [doctrine/commandment] must be upon precept, precept upon precept; line upon line, line upon line; here a little, and there a little:
-Isaiah 28:9-10
Those who splash around the milk of the Word do not have the understanding they need to compare Scripture with Scripture, here a little and there a little. The Lord God constructed His Word like this on purpose in order to make sure that those who do not have the Spirit of God in them will fail on such foundational doctrines because they have no discernment.
For when for the time ye ought to be teachers, ye have need that one teach you again which be the first principles of the oracles of God; and are become such as have need of milk, and not of strong meat. For every one that useth milk is unskilful in the word of righteousness: for he is a babe. But strong meat belongeth to them that are of full age, even those who by reason of use have their senses exercised to discern both good and evil.
-Hebrews 5:12-14
Please consider that there are many out there who believe they are of Christ, but are not of Christ. There are millions of Catholics, Mormons, Jehovah's Witnesses, and many more in televangelist ministies and elsewhere, who claim to be of Christ, but they are not. If all one needed to do was "accept Jesus," then every Catholic, Mormon, Jehovah's Witness, and every televangelist you see on TV, from Kenneth Copeland to Benny Hinn, would all be going to heaven and have no need for the truth of the Gospel.
(Read "False Converts & Eternal Security" here at creationliberty.com for more details.)
The major problem with Steven Anderson's teaching is that he does not take precept upon precept, line upon line. We need to considered
ALL
the Word of God, not just the particular parts we might like to hear or read. Here are a list of a few verses that Anderson does
NOT
mention in his teachings:
From that time Jesus began to preach, and to say, Repent: for the kingdom of heaven is at hand.
-Matthew 4:17
When the Lord Jesus Christ began His ministry, the first thing he taught was not belief. The first thing He taught was repentance.
Now after that John was put in prison, Jesus came into Galilee, preaching the gospel of the kingdom of God, And saying, The time is fulfilled, and the kingdom of God is at hand: repent ye, and believe the gospel.
-Mark 1:14-15
What is known as "preaching the gospel" in this passage is defined first by repentance, and then belief. Let's look at a few more verses:
Now I rejoice, not that ye were made sorry, but that ye sorrowed to repentance: for ye were made sorry after a godly manner, that ye might receive damage by us in nothing. For godly sorrow worketh repentance to salvation not to be repented of: but the sorrow of the world worketh death.
-2 Corinthians 7:9-10

Then Peter said unto them, Repent, and be baptized every one of you in the name of Jesus Christ for the remission of sins, and ye shall receive the gift of the Holy Ghost.
-Acts 2:38

And whosoever shall not receive you, nor hear you, when ye depart thence, shake off the dust under your feet for a testimony against them. Verily I say unto you, It shall be more tolerable for Sodom and Gomorrha in the day of judgment, than for that city. And they went out, and preached that men should repent.
-Mark 6:11-12

Repent ye therefore, and be converted, that your sins may be blotted out, when the times of refreshing shall come from the presence of the Lord;
-Acts 3:19

I tell you, Nay: but, except ye repent, ye shall all likewise perish.
-Luke 13:3

And the times of this ignorance God winked at; but now commandeth all men every where to repent:
-Acts 17:30

The Lord is not slack concerning his promise, as some men count slackness; but is longsuffering to us-ward, not willing that any should perish, but that all should come to repentance.
-2 Peter 3:9
(See also Mat 9:13, Mark 1:4, Luke 3:3, Luke 24:47, Acts 19:4, 2Ti 2:25, Rev 2:5, Rev 2:21)
After reading just a few of these verses, it should be absurd for a Christian to say that repentance has nothing to do with salvation, but many choose to believe that anyway. One of the major objections many church-goers have is that their pastor told them that repentance is part of works, and this is a serious problem because many Bible teachers create their own definitions to the words in Scripture, and this is often done in seminary (cemetery) colleges where they rely first and foremost on worldly, unbelievers to define words in the Bible for them through lexicons and concordances. (i.e. They don't allow the Lord God to define His Word for us.)
(Read "Dangers of Using Lexicons and Concordances" here at creationliberty.com for more details.)
For example, Anderson teaches that Christians should repent, but only
AFTER
they have been saved. However, that's not what Scripture teaches us:
Bring forth therefore fruits meet [suitable or fit] for repentance:
-Matthew 3:8

Bring forth therefore fruits worthy [possessing the qualities] of repentance,
-Luke 3:8
First, we can acknowledge that the fruits, or the good works, are being brought forth out of repentance. This shows us that the good works wrought in God come out of the repentant heart.
But shewed first unto them of Damascus, and at Jerusalem, and throughout all the coasts of Judaea, and then to the Gentiles, that they should repent and turn to God, and do works meet for repentance.
-Acts 26:20
Please note the order listed out in this verse, as it will be important to remember throughout this teaching:
Repent
Turn to God
Do Works
Notice specifically that works is defined after repentance.
Remember therefore from whence thou art fallen, and repent, and do the first works; or else I will come unto thee quickly, and will remove thy candlestick out of his place, except thou repent.
-Revelation 2:5
In all these verses, works are being defined separate from repentance; and furthermore, the works are being defined as being done by one who has repentance in the foundation his heart. The works are a
RESULT
of repentance; repentance is not defined in Scripture as a work of itself because if it was, it would contradict many other verses in addition to what we've seen so far.
In the following passage, notice how the Lord Jesus Christ calls out sinners to repentance:
But when Jesus heard that, he said unto them, They that be whole need not a physician, but they that are sick. But go ye and learn what that meaneth, I will have mercy, and not sacrifice: for I am not come to call the righteous, but sinners to repentance.
-Matthew 9:13
It is the unbeliever, the pagan Gentile, the Lord Jesus Christ called to repentance, which means repent is not just, as Anderson would say, only something a Christian does after being saved. If repentance was a work, then Christ called them to do works for their salvation, and that would be a major contradiction.
For we ourselves also were sometimes foolish, disobedient, deceived, serving divers lusts and pleasures, living in malice and envy, hateful, and hating one another. But after that the kindness and love of God our Saviour toward man appeared, Not by works of righteousness which we have done, but according to his mercy he saved us, by the washing of regeneration, and renewing of the Holy Ghost; Which he shed on us abundantly through Jesus Christ our Saviour; That being justified by his grace, we should be made heirs according to the hope of eternal life.
-Titus 3:3-7
However, that does not mean that Christ gives out mercy to every person who "accepts Jesus," nor to every person who claims to believe on Him. It is those who, through being humbled in repentance, have had the pride removed from their hearts that the Lord Jesus Christ grants His grace.
But he giveth more grace. Wherefore he saith, God resisteth the proud, but giveth grace unto the humble.
-James 4:6
The Lord Jesus Christ did not say He came to call sinners to belief; He came to call them to repentance. This is not to say that people should not believe, rather, that repentance is a necessary step in the direction of true belief on Christ. The Lord God did not say He gives grace to the unrepentant heart of a proud man; He gives grace to the humble man.
Anderson owns a website called "Repentance Blacklist," in which he cowardly hides his name as the author. Even though it's fairly obvious that it's Anderson, a simple registrar search for the domain name (shown in the image on the left) clears up that deceit. His website primarily focuses on the teaching of three men, Jack Hyles, Curtis Hutson, and Steve Anderson, and if you study Anderson's teachings, he has plagiarized Jack Hyles' work almost verbatim, which means it's not really Anderson's teaching at all; he's just copying what he got from someone else.
(See Steven Anderson, The Repentance Blacklist, retreived June 2, 2016, [repentanceblacklist.com/index.html]; It's possible he got permission from Jack Hyles to copy his work, so I don't know for sure if it's plagiarism.)

On this website, Anderson has a blacklist of people who teach that men should repent, just as Christ and His disciples taught, and has condemned them to hell as false preachers. He says, "Repenting of your sins is WORKS!" and then quotes from Jonah 3:10, and I will add in verse 9 for context:
Who can tell if God will turn and repent, and turn away from his fierce anger, that we perish not? And God saw their works, that they turned from their evil way; and God repented of the evil, that he had said that he would do unto them; and he did it not.
-Jonah 3:10
Anderson correctly interprets the word 'repent' meaning 'to turn' specifically in Jonah 3 verse 10. I have no argument with that, and it even further goes on to say that God turned from the punishment he was going to do Nineveh. However, Anderson purposefully deceives people by telling them that repent
ONLY
means 'to turn' in
EVERY
passage throughout the Bible, and that's the major fallacy.
We will go through the defintions of repentance in a moment, but since Anderson cherry picks a verse out of Jonah 3 to justify himself, I'd like to use that same chapter to expose his ignorance. Notice that in verse 10, it did not say the people repented and that was work, it said they turned from their evil way and that was work. Again, the problem is that Anderson falsely believes that repent always means to turn, so he then believes that repentance is always works, and it is almost guaranteed that he will not be corrected on this because most of his life and doctrines have been invested in this false idea.
Wherefore let him that thinketh he standeth take heed lest he fall.
-1 Corinthians 10:12
After the Lord God released Jonah from the belly of the fish, Jonah finally agreed to go to Nineveh and prophecy to them:
For word came unto the king of Nineveh, and he arose from his throne, and he laid his robe from him, and covered him with sackcloth, and sat in ashes.
-Jonah 3:6
Nineveh repented before God, which is common understanding in Scripture, but many Christians seem to be confused as to why sackcloth and ashes were used in the Bible. Both the sackcloth and the ashes had a symbolism among the Jews as a sign of humility in repentance; for example, the ashes comes from Abraham's conversation with the Lord God in Gen 18:
And Abraham answered and said, Behold now, I have taken upon me to speak unto the Lord, which am but dust and ashes:
-Genesis 18:27
The ashes represent the humility of being worth less than ashes spread on the ground in the presence of the Holy God. The sackcloth represents shame, covering the glorying of men with a coat of sorrow:
And Jacob rent his clothes, and put sackcloth upon his loins, and mourned for his son many days.
-Genesis 37:34

When Mordecai perceived all that was done, Mordecai rent his clothes, and put on sackcloth with ashes, and went out into the midst of the city, and cried with a loud and a bitter cry; And came even before the king's gate: for none might enter into the king's gate clothed with sackcloth. And in every province, whithersoever the king's commandment and his decree came, there was great mourning among the Jews, and fasting, and weeping, and wailing; and many lay in sackcloth and ashes.
-Esther 4:1-3

Woe unto thee, Chorazin! woe unto thee, Bethsaida! for if the mighty works, which were done in you, had been done in Tyre and Sidon, they would have repented long ago in sackcloth and ashes.
-Matthew 11:21
The sackcloth and ashes are sign of repenting in godly sorrow, and for repentance to mean 'godly sorrow' is very rarely taught today by the average preacher. The main reason for this is that preachers today are so leavened, they've turned away from looking to the Word of God for definitions, and instead look to lexicons and concordances for their definitions, which were written by men who did not believe in the Christian God of the Bible.
(Read "Dangers of Using Lexicons and Concordances" here at creationliberty.com for more details.)
Concerning Salvation in Christ, repentance is an attitude of the heart where the knowledge that we have sinned against God's Laws is acknowledged, and then we sorrow for the wrong we have done.
In meekness instructing those that oppose themselves; if God peradventure [perhaps] will give them repentance to the acknowledging of the truth; And that they may recover themselves out of the snare of the devil, who are taken captive by him at his will.
-2 Timothy 2:25-26
Repeatedly, Jesus Christ scolded men who were doing many good works of the law because their hearts were not in the right place.
If men's hearts are not in the right place via repentance, we end up with false converts.
When men do not acknowledge they are guilty of breaking God's Laws, then they come to Jesus Christ in pride; or in other words, they end up seeking pleasures rather than righteousness, and so they have a "Jesus-is-better-than-beer" mentality that puts Jesus Christ on a probationary period, subject to man's personal judgments and approval. (i.e. Their heart says: "
I will be the judge of whether or not Jesus is good enough for me.
")
Anderson's misunderstanding of this concept comes from an example he gives in Acts 16, where Paul and Silas were freed from prison by an earthquake while they sang praises unto God.
In verses 27-28, the jail keeper seeks to take his own life, because if any one of the men would escape, his life would be forfeit anyway. (i.e. The Roman government would execute him.) Paul stops the jailor from doing so, reassuring him that everyone was still present in the jail, just released from their cells. The jailor calls a light to see what is going on, and the following takes place:

Then he called for a light, and sprang in, and came trembling, and fell down before Paul and Silas, And brought them out, and said, Sirs, what must I do to be saved? And they said, Believe on the Lord Jesus Christ, and thou shalt be saved, and thy house.
-Acts 16:29-31
Here, Steve Anderson preaches that all he had to do at that point was believe on the Lord Jesus Christ and he was Saved, and I agree --
AT THAT POINT
, all he needed to do was believe on Jesus Christ. The reason Paul only told the jailor that he needed to believe was because
the jailor was already repenting and acknowledging his guilt before God
, which is why he was seeking a savior in the first place. Steven Anderson jumps ahead to the end of the process of Salvation, instead of looking to the entire process, and it's likely because Anderson has never had true repentance (godly sorrow) in his heart.
Have you ever tried to talk to someone about Christ, and they don't take you seriously? You can see them stick their nose in the air with pride, and/or they could care less about what you're saying? The reason that happens is because there's no repentance; there's no acknoledging of sin and godly sorrow in their heart to take the matter with the seriousness it needs.
Now imagine if later, that person walks up to you, bows themselves down before you in tears at your feet, and begs you to tell them what they need to do to be saved. You don't need to tell them "REPENT!" -- that would be incredibly stupid because they're already repenting. The difference between the person that has their nose in the air and the one that has their nose in the dirt is a repentant heart.
Likewise, ye younger, submit yourselves unto the elder. Yea, all of you be subject one to another, and be clothed with humility: for God resisteth the proud, and giveth grace to the humble.
-1 Peter 5:5
resist (v): to stand against; to withstand; to act in opposition, or to oppose; to baffle; to disappoint
(See 'resist', American Dictionary of the English Language, Noah Webster, 1828, retrieved July 3, 2014 [webstersdictionary1828.com])
We don't receive grace without humility, and we don't have humility without repentance, and therefore, the jail keeper was already in a repentant state, so all he needed at that point was to be shown the way to everlasting life. However, Anderson and his followers skip this step in Salvation, and end up bringing about many false converts to their church.
I've had a number of letters over the years from Anderson fanboys and fangirls, and one of them wrote me objections to this article. He sent me his personal website about Salvation, where the first thing he quotes to readers are the exact parts of Acts 16 we just covered, however, he leaves out verse 29 where the man comes trembling and kneels before them in repentance, because
he's trying to hide that the man was already repenting
. These are some of the deceptive tactics I've seen from the new-age teachings of men who seek to defy Christ's doctrine on repentance; they leave out verses they don't want to deal with, and Scripture that will destroy their personal theories.
Paul gave us a structure for how men are saved:
But the scripture hath concluded all under sin, that the promise by faith of Jesus Christ might be given to them that believe. But before faith came, we were kept under the law, shut up unto the faith which should afterwards be revealed. Wherefore the law was our schoolmaster to bring us unto Christ, that we might be justified by faith. But after that faith is come, we are no longer under a schoolmaster.
-Galatians 3:22-25
Let's break this down: Paul is first declaring what the Bible has already concluded, which is that we are all under sin.
As it is written, There is none righteous, no, not one: There is none that understandeth, there is none that seeketh after God.
-Romans 3:10-11

For all have sinned, and come short of the glory of God;
-Romans 3:23
In Galatians 3, Paul describes the state we were in
BEFORE
we believed on Christ. Let me repeat for emphasis, this is the description of the unbeliever
BEFORE
Salvation. Notice, Paul does not say that faith brings them to Christ, but rather that faith is
AFTERWARDS
revealed. After what? After the hearing of the law, which is the schoolmaster (for correction and instruction) to bring them to Christ, and then they'll be justified by faith, but they will not be justified by faith unless they were first brought to Christ in repentance via the law.
The law of the LORD is perfect, converting the soul: the testimony of the LORD is sure, making wise the simple.
-Psalm 19:7
This verse does not say that the law is one optional way for converting people; it says the law is
PERFECT
in converting people. Many Christians repeat what they're pastors teach them to do by walking around saying "believe on Jesus" with their "Jesus Saves" bumper stickers, thinking they're doing their pary to save the lost, but in reality, they need to be preaching the law to convert sinners.
The typical thing we learn in church buildings on how to convert souls is by "giving them your testimony." Personal experiences don't covert other peoples' souls to the Lord Jesus Christ, and it's interesting to note that in the Bible, the Lord God is called the capital 'T' Testimony, and His commendments are referred to as the testimony.
(Read "What is a Testimony?" here at creationliberty.com for more details.)
Another problem I see in preachers is the claim that repentance is "turning from sin," which is very close to the problem of claiming that repentance is works.
Now I rejoice, not that ye were made sorry, but that ye sorrowed to repentance: for ye were made sorry after a godly manner, that ye might receive damage by us in nothing. For godly sorrow worketh repentance to salvation not to be repented of: but the sorrow of the world worketh death.
-2 Corinthians 7:9-10
Notice first and foremost that repentance leads to salvation in this passage, and so those who teach that there is no connection between repentance and salvation simply do not understand the Scripture they're reading (assuming they read it at all). One of our listeners had sent me a teaching by a man named Afshin Yaghtin, in which he argued that repentance has nothing to do with salvation, and in it, he quoted 2Co 7:9 and talked about how people can be sorry for things, but he purposefully left out verse 10 in his teaching, because it's very hard to disconnect repentance from salvation if you have to read verses that directly connect repentance to salvation.
In fact, this Yaghtin preacher confessed to me, in attempt to justify his excluding verses, that:
"I literally put this short sermon together within an hour or so for a night service that we put together on the fly."
-Afshin Yaghtin, "Is Sorrow Required for Salvation?" retrieved June 20, 2016, [youtube.com/watch?v=PXg3PX12EpQ]
This demonstrates how little seriousness the average new-age preacher gives to such topics on salvation. It also helps to demonstrate the statistics I have documented in other teachings, how most pastors don't really spend much of any time studying the Word of God on their own, and they only spend time with a Bible open for a short time just to prepare sermons to make sure they can keep earning their paycheck.
(Read "Is Tithe a Christian Requirement?" here at creationliberty.com for more details and sources.)
The second thing to notice is that godly sorrow works repentance. It does not say that we work for our salvation, but that godly sorrow works repentance. If these ignorant preachers want to claim that repentance is works, then they must also, based on 2Co 7:10, believe that salvation is of works as well. The anti-repentance preachers either have to deny Scripture, or they have to believe in works-based doctrine.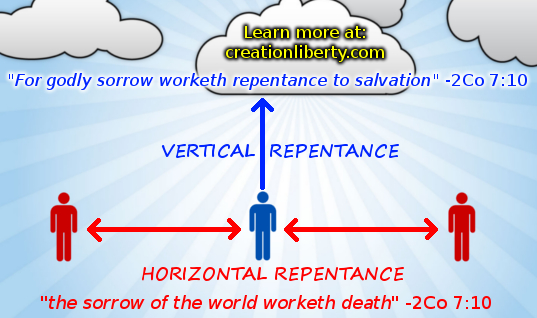 There is a sorrow of the world, and that's the world repenting towards one another. It's not wrong to repent towards another person, but a lifetime of horizontal repentance towards man will still put a person in hell because they never had vertical repentance towards God.
Repentance, in the context of Salvation in the Bible, is defined as godly sorrow
, or in other words, you acknowledge that you are guilty of breaking God's Laws and are legitimately sorry to Him for what you have done wrong, and it is at this point that men will look for a savior because they acknowledge they are fallen and need to be saved.
Please keep in mind, just because someone is repentant vertically, does
NOT
automatically mean they will be saved either because there is repentance
AND
belief. There are many men and women who have vertically repented towards God, but then sought another works-based, worldly way of redemption.
Catholics
,
Mormons
,
Muslims
, and many other similar pagan religions have brought in millions of people who are repentant vertically, but they end up seeking false gods and false doctrines for their salvation.
I remember listening to creationist Kent Hovind's seminar videos many year ago, and at the end of each one he would give a "salvation message" in which he told viewers:
"We've all broken God's laws. The Bible says you have to repent. The word repent means 'to turn'; it actually means two things, to turn from your sin and to turn to God."
-Kent Hovind, "Creation Seminar 1 - The Age of the Earth," retrieved June 20, 2016, [youtu.be/KK3eh4Z5Ko4?t=1h54m21s]
Kent Hovind still teaches this today, that repent means "to turn," and he allows no other definitions of it for use in the Bible. However, God's Word tells us:
I have surely heard Ephraim bemoaning himself thus; Thou hast chastised me, and I was chastised, as a bullock unaccustomed to the yoke: turn thou me, and I shall be turned; for thou art the LORD my God. Surely after that I was turned, I repented; and after that I was instructed, I smote upon my thigh: I was ashamed, yea, even confounded, because I did bear the reproach of my youth.
-Jeremiah 31:18-19
Here, we see a man turned, and
THEN
he repented. If we read this passage with Hovind's definition, it would say, "Surely after that I was turned, I turned." That doesn't make any sense. Repentance in this verse is defined as "ashamed in grief," having sorrow for doing wrong, and that can happen before and after being turned from sin.
The Lord God has also experienced this grief, and this is defined the first time the Bible uses the word repent:
And it repented the LORD that he had made man on the earth, and it grieved him at his heart.
-Genesis 6:6
It makes no sense to say that it "turned" the Lord that he had made man, and similarly, He didn't change His mind about making man, otherwise he wouldn't have saved Noah and His family. This passage only makes sense if we take it that repentance is sorrow, and the Lord God was grieved in that sorrow that He had made man because of the great wickedness He saw on the earth.
In more recent days, Kent Hovind has not only taught error on repentance, he now rejects it completely from salvation because he believes it's a work:
KENT HOVIND: "I don't think it's cheapening the Gospel to not include repentance... Is repentance a work that man does?... I would think probably yes."
(Read "Leaven Alert: Kent Hovind's False Doctrine" here at creationliberty.com for more details.)
After vertical repentance (grief that we have sinned against God), it is our faith in the Lord Jesus Christ, and His promises that His redeeming sacrifice on the cross was sufficient to save us, that we get saving grace.
Both repentance (godly sorrow or shame, which humbles us) AND belief are necessary requirements to be offered the free gift of saving grace from Jesus Christ
-- it's a free gift, but also one that is selectively given to those who are ready to receive it after the pride of their hearts has been removed in humility.
Watch Out for Similar Teachings of Heresy


There are those who teach that repentance is needed for salvation, much like we do, but they slip in false doctrine. Ray Comfort is a good example of this. Some people may be confused why I bring up Ray Comfort because he teaches that men need to repent to be saved, however, he teaches works doctrine on his leavened 501c3 ministry website.


"You have violated God's holy Law, and you're in BIG trouble. On Judgment Day, you will be found guilty and end up in Hell. That's why you need the Savior. Merely being sorry for your sins, or confessing them to God won't help you. You must turn from sin... for God to grant mercy towards you."
-Living Waters, "Save Yourself Some Pain," retrieved Nov 12, 2014, [livingwaters.com/save-yourself-some-pain]; This teaching is a written summary of Comfort's "Hell's Best Kept Secret" teaching.

As shown above, the definition of repent can mean to "turn," but it doesn't always mean that in every context, and under the context of Salvation, we've already demonstrated that the Bible defines repentance as godly sorrow. Turning from sin happens as works AFTER we are saved, not before; although Comfort's ministry is teaching that you have to do it BEFORE your saved, and that's works-based doctrine.

So we are not only warning Christians to be cautious of men who teach repentance is not part of Salvation in Christ, but also warning about men on the other end of the spectrum, who do believe repentance is necessary, but then teach a works-based doctrine that is heresy. Although Ray Comfort might teach some things right, he is extremely leavened and teaches some false doctrines that we need to beware, and we ought to separate ourselves from Comfort's leaven until he gets corrected.

A little leaven leaveneth the whole lump.
-Galatians 5:9
In addition to all that, repentance can't be a work because the Lord God gives us repentance:
In meekness instructing those that oppose themselves; if God peradventure will give them repentance to the acknowledging of the truth;
-2 Timothy 2:25
In order to give a man a repentant heart, the Lord God often has to bring him very low to humble him. For example, in
Daniel 4
, in order to bring the king of all the nations to humility, the Lord God stripped him of his right mind and made him like an animal, to feed on the grass like an ox for a time, and then when the king was brought out of it, he understood what he was and who God is.
The main problem with mankind, long ago and still today, is that they falsely believe in their own inner goodness. In one of our atheist interviews, I addressed our guest on the issue of sin by asking him if he had ever told a lie in his life, to which he confessed he had, and when I asked him what that made him [the correct answer being a liar], he responded that it made him a man who had once made some mistakes but was better than that now. The issue I've always had with atheists in discussion is their desperate cling to to an idea of inner goodness of themselves, and they refuse to confess they are inwardly wicked.
(See "We're Moral 'Cause We Exist - Atheist Guest Dan Courtney" - See also "How to Talk With Atheists" here at creationliberty.com for more details.)
It takes a repentant heart to acknowledge wickedness and wrongdoing, and the acknowledging of wrongdoing creates the desire for a savior. How does a man know he needs to be saved? Saved from what? If a man does not acknowledge his sin against the Holy God, he will see no need for the Savior.
There is a way which seemeth right unto a man, but the end thereof are the ways of death.
-Proverbs 14:12

Every way of a man is right in his own eyes: but the LORD pondereth the hearts.
-Proverbs 21:2

For the wrath of God is revealed from heaven against all ungodliness and unrighteousness of men, who hold the truth in unrighteousness; Because that which may be known of God is manifest in them; for God hath shewed it unto them. For the invisible things of him from the creation of the world are clearly seen, being understood by the things that are made, even his eternal power and Godhead; so that they are without excuse: Because that, when they knew God, they glorified him not as God, neither were thankful; but became vain in their imaginations, and their foolish heart was darkened. Professing themselves to be wise, they became fools,
-Romans 1:18-22
And so now, hopefully, readers of this teaching can see the problem with removing repentance (the godly sorrow, guilt, grief, and shame) from the message of Salvation. When repentance is removed, and a man is told all he has to do is believe in order to go to heaven, he not only has no understanding of the Gospel of Christ, but he will likely continue in his normal worldly, sinful ways without correction. The bottom line is that false converts are created by false preachers and church buildings convincing worldly people they're going to heaven by removing key foundations of the Gospel of Salvation.
(Read "False Converts & Eternal Security" here at creationliberty.com for more details.)
A Steven Anderson fanboy by the name of Bill wrote me shortly after I first published this teaching, and he told me I was going to hell as a false preacher for teaching repentance. Bill is so blinded by false teachers like Anderson, he could not even understand what he was writing me:
"Christopher what you promote with your unbiblical teaching of repentance is works salvation... Based on the above, I have decided to separate myself from you... If you repent of your false gospel and beliefs, let me know. If not, I don't want to hear back from you."

So, according to Bill, in order to get on the righteous path to God, he says I am required to REPENT of my false gospel and beliefs. Thus, Bill believes I need to repent of a belief that men should repent, and thus, repentance is required for my salvation. This is a perfect example of the blindness that comes over those who have been taught they are Christians by false preachers, but have no repentance in their hearts; they can't see the forest because so many trees are in the way.
The fear of the LORD is the beginning of knowledge: but fools despise wisdom and instruction.
-Proverbs 1:7

Blessed are ye, when men shall hate you, and when they shall separate you from their company, and shall reproach you, and cast out your name as evil, for the Son of man's sake.
-Luke 6:22
You May Not Know How It Happened


Because of false teachings floating around churches in America today, there are large numbers of Christians who did repent and believe on Jesus Christ (born-again), but still teach that all people need to do is believe. It is possible for a man to be born-again in Jesus Christ without understanding how it happened to him, because we are given repentance before we develop full understanding.

For many years after being saved, I used to teach the "sinner's prayer," which is simply belief without repentance. (i.e. There is no teaching of the law in it.) There is no magic word prayer you can say to be saved. I had to be corrected with the Word of God to understanding that without the law, there is no repentance, and without the humility through repentance, saving grace is not offered, but for those humbled to repentance, saving grace is offered to them that believe on the Redeeming Lamb of God.

For I am persuaded, that neither death, nor life, nor angels, nor principalities, nor powers, nor things present, nor things to come, Nor height, nor depth, nor any other creature, shall be able to separate us from the love of God, which is in Christ Jesus our Lord.
-Romans 8:38-39

When you have been humbled by the Lord God, and you believe on His Son, you will be saved. There is no doubt; His promise is sure.
Every time Christ was asked how to get to heaven, he did
NOT
tell them to believe on Him. This is not to say that belief is not vitally important, but there is a two step process. The Lord Jesus Christ first gave them the Law of God:
And when he was gone forth into the way, there came one running, and kneeled to him, and asked him, Good Master, what shall I do that I may inherit eternal life?... Thou knowest the commandments, Do not commit adultery, Do not kill, Do not steal, Do not bear false witness, Defraud not, Honour thy father and mother.
-Mark 10:19

And, behold, a certain lawyer stood up, and tempted him, saying, Master, what shall I do to inherit eternal life? He said unto him, What is written in the law? how readest thou?
-Luke 10:26
Jesus had to give them the Law because they would not believe that He was the Messiah there to save men's lives. Without repentance, they would not believe, and it is a good idea for us born-again to consider and understand what this means.
But when Jesus heard that, he said unto them, They that be whole need not a physician, but they that are sick. But go ye and learn what that meaneth, I will have mercy, and not sacrifice: for I am not come to call the righteous, but sinners to repentance.
-Matthew 9:13

The Lord is not slack concerning his promise, as some men count slackness; but is longsuffering to us-ward, not willing that any should perish, but that all should come to repentance.
-2 Peter 3:9
Many Christians have gotten upset with me for saying this, but all those "Jesus Saves" bumper stickers are a waste of time and money.
For the preaching of the cross is to them that perish foolishness; but unto us which are saved it is the power of God.
-1 Corinthians 1:18
We Christians think those signs are useful, and we think they are meaningful, because we are saved and believe on the power of God. However, for those who are
NOT
saved, they see it as complete foolishness, and that's because they do not have any repentance that they have done wrong, so they see no need to believe.
Those who are unbelievers will, on the day of judgment, be judged by the law of God for their iniquity, and so they need to hear the law they are going to be judged by. The only way to bring people to Jesus Christ, the perfect way, is by preaching the law of God to the lost, so they will first repent in godly sorrow, and then will come seeking salvation.
I get emails from upset fans of Steven Anderson occasionally, and one of these fans with the email username "chainsmoke" wrote me saying that repentance is not part of Salvation in the Bible, and he uses Romans 11 as his argument:
For the gifts and calling of God are without repentance.
-Romans 11:29
Before we take a look at the context of this verse, let me ask the reader: Does this say repentance has nothing to do with salvation? Obviously not. It's talking about the gifts and calling of God. For example, I have seen some men who are incredible with business, music, writing, mechanics, etc, who are also some of the most wicked men I've ever seen. God gave these men gifts and calling, but they have used their gifts for their own glory, and ignored their calling to serve.
The Lord God gave these men gifts and a calling before repentance, and sadly, many of them never will repent. Those things were given to them to serve the benefit of the Lord Jesus Christ, and they chose selfish motivations instead.
Now let's take the context of Romans 11 and look at it more carefully to see where this 'chainsmoker' went wrong.
I say then, Hath God cast away his people? God forbid. For I also am an Israelite, of the seed of Abraham, of the tribe of Benjamin. God hath not cast away his people which he foreknew.
-Romans 11:1-2
The context here is concerning the church in Rome who thinks God has forsaken the Jews, and Paul is correcting them with Biblical instruction that God is going to fulfill His promises to Israel.
Even so then at this present time also there is a remnant according to the election of grace... Israel hath not obtained that which he seeketh for; but the election hath obtained it, and the rest were blinded (According as it is written, God hath given them the spirit of slumber, eyes that they should not see, and ears that they should not hear;) unto this day.
-Romans 11:5-8
God has made it so that the Jews would not see, and though some people may think ill of God for this, that's only because they have not studied the book of first and second Chronicles, where Israel turned to pagan gods (along with incredibly wicked, filthy sins abound), then God punished them, then they repented, then they turned to pagan gods again, God punished them, then they repented, over and over and over and over. The next verse is going to give us even more context before we get to verse 29:
I say then, Have they stumbled that they should fall? God forbid: but rather through their fall salvation is come unto the Gentiles, for to provoke them to jealousy.
-Romans 11:11
God has darkened the eyes of the Jews so that Salvation would come to all the Gentiles (that's us), so that the Jews would be provoked to jealousy, so they would seek after God again. Today,
the Jews have rejected their Messiah, and have not repented.
Paul then continues to talk about graffed tree branches, and how God has the power to graff in both Jew and Gentile alike to the good tree, so read the next part carefully because this is going to setup the context with which we can understand verse 29:
For if thou wert cut out of the olive tree which is wild by nature, and wert graffed contrary to nature into a good olive tree: how much more shall these, which be the natural branches, be graffed into their own olive tree? For I would not, brethren, that ye should be ignorant of this mystery, lest ye should be wise in your own conceits; that blindness in part is happened to Israel, until the fulness of the Gentiles be come in. And so all Israel shall be saved: as it is written, There shall come out of Sion the Deliverer, and shall turn away ungodliness from Jacob: For this is my covenant unto them, when I shall take away their sins. As concerning the gospel, they are enemies for your sakes: but as touching the election, they are beloved for the fathers' sakes.
-Romans 11:24-28
Most Jews today reject the Son of God, but God still upholds His covenant with His Chosen People. However, for those of us in the "
election of grace
" the Jews are enemies for the time being. Of course, the Bible tells us to love our enemies, so don't forget that, but now take the context of the unbelief of the Jews, with God's promises to them that their eyes will eventually be opened:
For the gifts and calling of God are without repentance. For as ye in times past have not believed God, yet have now obtained mercy through their unbelief:
-Romans 11:29-30
That means God is giving the Jews gifts and calling, despite the fact that they have not repented. That's very simple to understand. The problem is that we have ignorant Christians who have access to online keyword search websites, and like the "chainsmoker," types in the word 'repentance' to get a list of verses with that word, and thinks he's done a Bible study. We must take the Bible in its context, or we will end up like the false prophets and false religions of the world today [e.g.
Catholics
,
Mormons
,
Jehovah's Witnesses
, etc] who create entire false doctrines by concentrating on one verse taken out of its context.
As a side note, this "chainsmoker" also writes:
"And what about all of Paulís clear writings on salvation that do not speak of repentance?"
It's obvious that he claims to have read all of Paul's writings, and it seems he is claiming that Paul's writing don't speak of repentance.
For Paul had determined to sail by Ephesus... and called the elders of the church. And when they were come to him, he said unto them, Ye know, from the first day that I came into Asia, after what manner I have been with you at all seasons, Serving the Lord with all humility of mind, and with many tears, and temptations, which befell me by the lying in wait of the Jews: And how I kept back nothing that was profitable unto you, but have shewed you, and have taught you publickly, and from house to house, Testifying both to the Jews, and also to the Greeks, repentance toward God, and faith toward our Lord Jesus Christ.
-Acts 20:16-21
This "chainsmoker" who wrote this letter is either ignorant of Scripture, or he's lying to try and justify what he wants to believe. How much more clear could Paul be on this issue? Obviously he taught unbelievers, and Christians alike, "
REPENTANCE toward God
".
How much more Scripture is necessary for me to provide before Christians start preaching the law to the unbeliever and teaching men to repent? How many more examples must Christ and His disciples give us?
Again, if men's hearts are not in the right place via repentance, we end up with false converts, and those false converts don't want repentance to be taught because, most likely, they themselves have never repented. They don't repent, and they don't want you to repent lest their deeds be reproved.
Woe unto you, scribes and Pharisees, hypocrites! for ye compass sea and land to make one proselyte, and when he is made, ye make him twofold more the child of hell than yourselves.
-Matthew 23:15

For every one that doeth evil hateth the light, neither cometh to the light, lest his deeds should be reproved.
-John 3:20
I pray these men, if they are just ignorant and unsaved, would be brought low to repentance so they can be saved, just as the Lord God has done to me.
And as it is appointed unto men once to die, but after this the judgment:
-Hebrews 9:27