In our "
Corruptions of Christianity
" series, we cover pagan religions that call themselves "Christians," but do not submit themselves to the basic doctrines of our Lord Jesus Christ, therefore not qualifying them as part of Christianity. Jehovah's Witnesses provide another example of those who reject the Salvation plan of the Living God of the Bible, and follow the Watch Tower Society on a path they believe will get them to heaven, but in reality, they will end up in hell.
Perhaps some people may find that too harsh, but those Jehovah's Witnesses that are not willing to read past this point also have no interest in hearing anything except something that supports Jehovah's Witness documentation, and therefore, will also reject the Scriptural doctrine I will present in this article. In fact, if the Jehovah's Witness is unwilling to read this, then they also reject the teaching of their founder, Charles T. Russell, when he said:
"We need to examine, not only what we personally believe, but also what is taught by any religious organization with which we may be associated. Are its teachings in full harmony with God's Word, or are they based on the traditions of men? If we are lovers of the truth, there is nothing to fear from such an examination."
-Charles T. Russell, Studies in the Scriptures, Vol. 2, "The Time Is At Hand," 1913, p. 242
Obviously, we at Creation Liberty Evangelism are labeled Christians, but many around the world have also been convinced that Jehovah's Witnesses [JWs] are associated with Christianity, and this article will demonstrate from the Bible that it is just another works-based religion built by a false prophet. If you are a JW and you do not fear testing your beliefs against the Scriptures, as Mr. Russell taught, then keep reading.
The Watchtower, a publication from JWs Watchtower Society (now part of www.jw.org), asks:
"If Jesus of the 'New Testament' is Jehovah of the 'Old Testament,' as many claim, should there not at least be one Biblical reference saying that Jesus is Jehovah? Yet there is not one."
-The Watchtower, Dec 15, 1984, p. 29

Not only new Christians, but also unbelievers around the world know the basic doctrine of the Bible teaches that Jesus Christ and God the Father are one and the same, and that is part of the reason so many people reject Christ. In Matthew 1:23, it is said that our Savior would be called 'Emmanuel', which literally means "God with us," and there are many correlating verses to back this up:
For unto us a child is born, unto us a son is given: and the government shall be upon his shoulder: and his name shall be called Wonderful, Counsellor, The mighty God, The everlasting Father, The Prince of Peace.
-Isaiah 9:6

Giving thanks unto the Father... Who hath delivered us from the power of darkness, and hath translated us into the kingdom of his dear Son... For by him were all things created, that are in heaven, and that are in earth... all things were created by him, and for him:
-Colossians 1:12-16

And there came a fear on all: and they glorified God, saying, That a great prophet is risen up among us; and, That God hath visited his people.
-Luke 7:16

My Father, which gave them me, is greater than all; and no man is able to pluck them out of my Father's hand. I and my Father are one.
-John 10:29-30

And he said unto me, These sayings are faithful and true: and the Lord God of the holy prophets sent his angel to shew unto his servants the things which must shortly be done. Behold, I come quickly... And, behold, I come quickly... I am Alpha and Omega, the beginning and the end, the first and the last. I Jesus have sent mine angel to testify unto you these things in the churches... He which testifieth these things saith, Surely I come quickly. Amen. Even so, come, Lord Jesus.
-Revelation 22:6-21
These are just a few of the many Scriptures that can be quoted demonstrating that Jesus Christ was, is, and always will be God. But this is not what JWs believe. There is only one verse they use in support of the position that Jesus Christ was not God:
Ye have heard how I said unto you, I go away, and come again unto you. If ye loved me, ye would rejoice, because I said, I go unto the Father: for my Father is greater than I.
-John 14:28
Was Jesus Christ lesser than God while He was on the earth? Yes. Jesus Christ became flesh and submitted himself unto the will and power of God the Father while He was on earth, but after He died, He was equal to the Father again, which is how He can raise Himself from the dead. (We will cover that more later in this article.)
JWs believe that Jesus Christ was Michael the angel, transformed into a human to suffer for the sins of man, and as a Christian, I would like to see a verse of the Bible that even hints at the mere possibility that something ilke that could be true.
"There is Scriptural evidence for concluding that Michael was the name of Jesus Christ before he left heaven and after his return."
-The Watchtower, May 15, 1969, p. 307
"Michael the great prince is none other than Jesus Christ himself."
-The Watchtower, Dec 15, 1984, p. 29
Let this mind be in you, which was also in Christ Jesus... Wherefore God also hath highly exalted him, and given him a name which is above every name:
-Philippians 2:5-9
Is Michael the angel's name above that of Jehovah God? Is Jesus above Jehovah God? If Jesus Christ is above Jehovah, then Jehovah is not all powerful, and if Jehovah is above Jesus Christ, then God lied in this passage.
There is ONLY ONE WAY to logically interpret this verse: Jesus Christ is Jehovah God
.
The JWs and WTS say there is Scriptural evidence for their claims of Michael and Jesus being one, but where is it? Where is the slightest hint that it could possibly be true in Scripture? This author has been unable to find any JW documentation that even begins to suggest reference to a book, chapter, or verse from the Bible on this issue, but I can quote you many verses that indicate Jesus is God, including
Christ's direct statement that He and the Father are one.
JWs state that no evidence exists for Jesus and God being one and same, while ignoring the passages quoted in this article, then turn around and say much evidence exists for Jesus and Michael being one, yet offer nothing to support it.
To Jehovah's Witnesses: Why would you desire to remain in a church that is openly lying to its congregation about the truth of Scripture?
"The three essentials for establishing the credentials of a true prophet, as given through Moses, were: The true prophet would speak in Jehovah's name; the things foretold would come to pass (Deut. 18:20-22); and his prophesying must promote true worship."
-Insight On The Scriptures, Vol. 2, 1988, p. 696
According to JW documentation, a false prophet is identified when their prophecies do not occur. That's reasonable. So let's put the JW prophecies under that test of scrutiny.
| | |
| --- | --- |
| "In this chapter we present the Bible evidence which indicates that six thousand years from the creation of Adam were complete with A.D. 1872; and hence that, since 1872 A. D., we are chronologically entered upon the seventh thousand or the Millennium-the forepart of which, the 'Day of the Lord,' the 'day of trouble,' is to witness the breaking into pieces of the kingdoms of this world and the establishment of the Kingdom of God under the whole heavens." | |
-C.T. Russell, Studies in the Scriptures, Vol. 2, "The Time Is At Hand," Watch Tower Bible and Tract Society, 1909 and 1913 Editions, p. 33 & 242. See also Thy Kingdom Come, Watch Tower Bible and Tract Society, 1905, p. 127
And then shall appear the sign of the Son of man in heaven: and then shall all the tribes of the earth mourn, and they shall see the Son of man coming in the clouds of heaven with power and great glory. And he shall send his angels with a great sound of a trumpet, and they shall gather together his elect from the four winds, from one end of heaven to the other.
-Matthew 24:30-31
Need we say more? This should be all we need to see to demonstrate that Charles Russell, the Watch Tower Society [WTS], and JWs are false prophets by their own definitions, but it was ignored and people continued to believe in something that was already proven to be false. Not only is it strange that men and women would continue to believe something that obviously isn't true, further predictions were made decades later
WITHOUT ADMITING THAT THEIR PROPHET WAS FALSE
:
"The second coming of the Lord therefore began in 1874; and that date and the years 1914 to 1918 are specially marked dates with reference to his coming."
-J.F. Rutherford, "Creation," Watch Tower Bible and Tract Society, 1927, p. 310
"In view of this strong Bible evidence concerning the Times of the Gentiles, we consider it an established truth that the final end of the kingdoms of this world, and the full establishment of the Kingdom of God, will be accomplished at the end of A.D. 1914."
-C.T. Russell, "The Time Is At Hand," Studies in the Scriptures, Vol. 2, 1889 and 1909 edition, Watch Tower Bible and Tract Society, p. 99
Notice that Charles Russell says "1874," when his prediction was made for 1872. Then, continuing to believe that our Lord Jesus Christ was already here on earth somewhere and we just never saw Him, Russell goes on to RE-predict between the years 1914 and 1918, of which we still did not see what the Scriptures have told us we would see. Despite 1872 failing, 1874 failing, and 1914-1918 failing, JWs wanted to try it again:
"According to this trustworthy Bible chronology six thousand years from man's creation will end in 1975, and the seventh period of a thousand years of human history will begin in the fall of 1975 C.E."
-Life Everlasting in Freedom of the Sons of God, Watch Tower Bible and Tract Society, 1966, p. 29 & 35; See also, The Watchtower, Oct 15, 1969, p. 623; The Approaching Peace of a Thousand Years, p. 26-27; Kingdom Ministry, March, 1968 p. 4
Here we are almost 40 years later, and there are still millions of JWs out there passing out tracts, even though the religious beliefs of the WTS were proven to be based on false prophets multiple times. If you don't believe that someone would believe something so silly, read Russell's statement for yourself:
"Surely there is not the slightest room for doubt in the mind of a truly consecrated child of God that the Lord Jesus is present and has been since 1874."
-Watchtower, Jan 1, 1924, p. 5; See also Edmond C. Gruss, The Four Presidents of the Watch Tower Society (Jehovah's Witnesses), Xulon Press, 2003, p. 197, ISBN: 9781594671319
Charles Russell was prideful, and obviously ashamed, so he denied who he really was (i.e. a false prophet) and tried to convince himself and everyone around him that something imaginary took place. In fact, Charles Russell later told everyone that's exactly what false prophets do:
"Jehovah, the God of the true prophets, will put all false prophets to shame either by not fulfilling the false prediction of such self-assuming prophets or by having His own prophecies fulfilled in a way opposite to that predicted by the false prophets. False prophets will try to hide their reason for feeling shame by denying who they really are."
-Charles T. Russell, Studies in the Scriptures, Vol. 2, "The Time Is At Hand," 1913, p. 353-354
I predict that most JWs will take on the same mindset as the man who started it all--denying reality to false hope and pride. All throughout the Bible, God always made sure that His prophecies were verified with actual events and signs, but nothing like that has taken place for the WTS/JW prophecies, and yet millions of men and women still cling to that idea without Biblical foundation.
Then if any man shall say unto you, Lo, here is Christ, or there; believe it not. For there shall arise false Christs, and false prophets, and shall shew great signs and wonders; insomuch that, if it were possible, they shall deceive the very elect. Behold, I have told you before. Wherefore if they shall say unto you, Behold, he is in the desert; go not forth: behold, he is in the secret chambers; believe it not. For as the lightning cometh out of the east, and shineth even unto the west; so shall also the coming of the Son of man be. For wheresoever the carcase is, there will the eagles be gathered together.
-Matthew 24:23-28
The Bible clearly tells us we would all know when it happens, and it has clearly not happened yet. The WTS and JWs have made many other false predictions (1925, 1929, 1932, etc) and not a one has come to pass, but those I have listed above should be enough to clearly spell out that JWs are what Jesus called "false prophets."
To Jehovah's Witnesses: Why would you desire to remain in a church that is openly lying to its congregation about the truth of Scripture?
Many Christians believe that JWs believe the same as we do, that all who are saved will go to Heaven, but that is not what their church teaches. JWs have been taught that only 144,000 people will go to heaven, and everyone else will have to remain on earth (including saved Christians), but that is a direct contradiction to what the Bible teaches us.
Before I address the issue of Christians going to heaven, let's look at a Scripture concerning JW believes about Christians remaining on earth and not allowed to go to heaven. In Mark 12, Jesus was asked about a woman who had seven husbands in her lifetime, and wanted to know which be married to her in the life after, but Christ corrected them in speaking of the day of ressurection:
For when they shall rise from the dead, they neither marry, nor are given in marriage; but are as the angels which are in heaven.
-Mark 12:25
How can Christians be living earthly lives after our Lord comes back, when He told us we would be as the angels which are
IN HEAVEN
? Let's look at a short list of Scriptures concerning promises of heaven:
Blessed be the God and Father of our Lord Jesus Christ, which according to his abundant mercy hath begotten us again unto a lively hope by the resurrection of Jesus Christ from the dead, To an inheritance incorruptible, and undefiled, and that fadeth not away, reserved in heaven for you,
-1 Peter 1:3-5

Rejoice ye in that day, and leap for joy: for, behold, your reward is great in heaven:
-Luke 6:23

And the Lord shall deliver me from every evil work, and will preserve me unto his heavenly kingdom:
-2 Timothy 4:18

Blessed are the poor in spirit: for theirs is the kingdom of heaven.
-Matthew 5:3

Blessed are they which are persecuted for righteousness' sake: for theirs is the kingdom of heaven.
-Matthew 5:10

In my Father's house are many mansions: if it were not so, I would have told you. I go to prepare a place for you... I will come again, and receive you unto myself; that where I am, there ye may be also.
-John 14:2-3

For the Lord himself shall descend from heaven with a shout, with the voice of the archangel, and with the trump of God: and the dead in Christ shall rise first: Then we which are alive and remain shall be caught up together with them in the clouds, to meet the Lord in the air: and so shall we ever be with the Lord. Wherefore comfort one another with these words.
-1 Thessalonians 4:16-18
There are more Scriptures beyond this that prove those born-again in Jesus Christ will end up in heaven, but the point has been clearly made with these few passages. Of course, there will be a thousand years of Christ reigning on the earth (
Rev 20:1-6
), but this does not eliminate any promises of heaven.
JWs are taught that only 144,000 would be born-again and go to heaven, and those only consist of the twelve apostles of Jesus Christ and some of the Jehovah's Witnesses who were born before 1914. The rest of the saved stay in God's earthly kingdom. However, the Bible clearly states that the 144,000 talked about in Revelation are Israelites.
And I heard the number of them which were sealed: and there were sealed an hundred and forty and four thousand of all the tribes of the children of Israel.
-Revelation 7:4
A Jehovah's Witness will respond to this by saying that the passage should not be taken literally, but rather "spiritually" as in a "spiritual Israel." If Revelation 7 is just as spiritual metaphor, then why do the next four verses (5-8) go on to individually list the twelve tribes and number them as 12,000 each? The JW interpretation does not match what the Scripture tells us about this.
Worse still, the 144,000 were supposed to be born before 1914, and here's what the WTS said about that in their
Awake!
publication:
"Even if we presume that youngsters 15 years of age would be perceptive enough to realize the import of what happened in 1914, it would still make the youngest of 'this generation' nearly 70 years old today... Jesus said that the end of this wicked world would come before that generation passed away in death."
-Awake!, Oct 8, 1968, p. 13-14
As I'm writing this, it's 2013, so that would make the youngest that would have witnessed this at least 115 years old or more. The record-holding oldest living persons in the world recorded in the last 20 years don't reach ages much more than 115-116 years old. In all likelihood, that youngest JW generation prior to 1914 is dead today, but dedicated JW will still keep believing despite the facts and Scriptures that contradict what they teach.
Though the majority of the world throughout history has rejected God, Christ, and the Holy Spirit, there will still be a great multitude in heaven.
After this I beheld, and, lo, a great multitude, which no man could number, of all nations, and kindreds, and people, and tongues, stood before the throne, and before the Lamb, clothed with white robes, and palms in their hands; And cried with a loud voice, saying, Salvation to our God which sitteth upon the throne, and unto the Lamb.
-Revelation 7:9-10
A people of 144,000 can be numbered by man, and the Scriptures demonstrate that because many times that number were counted in the book of Numbers. Christ has also told us that saved Christians will not be separated into two groups (earthly and heavenly), but will be one group:
And other sheep I have, which are not of this fold: them also I must bring, and they shall hear my voice; and there shall be one fold, and one shepherd.
-John 10:16
To Jehovah's Witnesses: Why would you desire to remain in a church that is openly lying to its congregation about the truth of Scripture?
[JWs also teach there is no hell, and that the unsaved just cease to exist. That is totally opposite to what the Scriptures tell us, and I have already covered that in detail in "Does Hell Exist in the Bible?" here at creationliberty.com.]
We mentioned earlier that JWs are taught that Jesus and Michael the angel are one and the same person, but they also teach that Michael (aka Jesus) was died permenantly on a wooden torture stake, and he stayed dead. According to JWs, the tomb where Jesus was laid was empty because God hid the body somewhere else, and God then created a new spirit creature called Jesus.
Jesus answered and said unto them, Destroy this temple, and in three days I will raise it up. Then said the Jews, Forty and six years was this temple in building, and wilt thou rear it up in three days? But he spake of the temple of his body. When therefore he was risen from the dead, his disciples remembered that he had said this unto them; and they believed the scripture, and the word which Jesus had said.
-John 2:19-22
The Bible says that Jesus raised his own body from the dead, and JWs say that He didn't. In whom will you put your trust?
When Mary and Mary Magdalene came to visit the sepulchre where Jesus was buried, they saw the angel sitting on the stone door rolled back from the entrance. Let's see what the angel said:
And the angel answered and said unto the women, Fear not ye: for I know that ye seek Jesus, which was crucified. He is not here: for he is risen, as he said. Come, see the place where the Lord lay. And go quickly, and tell his disciples that he is risen from the dead; and, behold, he goeth before you into Galilee; there shall ye see him: lo, I have told you.
-Matthew 28:5-7
If God created a new spirit being, and the JWs are correct on this interpretation, this is what we should read: "He is not here: for his body is hid. Go quickly, and tell his disciples that God has made a new spirit creature with the name of Jesus." That is not what we read in this passage. The angel said
he is risen,
and again
he is risen from the dead
, making no mention of JWs beliefs. And why would the angel tell them they would see
HIM
in Galilee, and not the new spirit being with Christ's name?
The other disciples therefore said unto him, We have seen the Lord. But he said unto them, Except I shall see in his hands the print of the nails, and put my finger into the print of the nails, and thrust my hand into his side, I will not believe... Then saith he to Thomas, Reach hither thy finger, and behold my hands; and reach hither thy hand, and thrust [it] into my side: and be not faithless, but believing.
-John 20:25-27
Though we are justified by faith, Thomas came to believe after seeing the evidence of the wounds with his own eyes and hands, and that evidence was the actual wounds on the body that was once dead and is now alive. The reason His body had the wounds of His crucifixion is because His body was risen from dead just as the Scriptures teach us.
And said unto them, Thus it is written, and thus it behoved Christ to suffer, and to rise from the dead the third day: And that repentance and remission of sins should be preached in his name among all nations, beginning at Jerusalem. And ye are witnesses of these things.
-Luke 24:46-48
Again, not only do we see that it was Christ Himself who was raised from the dead, not a new spirit being in creation, but also that the apostles of Jesus Christ were to be
WITNESSES
of this. By denying the raising of Christ's own body from the dead, the Jehovah's Witnesses are denying the direct eye-witnesses of Christ's ressurection, and that witness is reconfirmed in the book of Acts:
He seeing this before spake of the resurrection of Christ, that his soul was not left in hell, neither his flesh did see corruption. This Jesus hath God raised up, whereof we all are witnesses.
-Acts 2:31-32
In fact, taking it a vital step further, without the ressurction of Christ HIMSELF and His body, all our preaching, faith, and salvation is in vain and a falsehood.
Now if Christ be preached that he rose from the dead, how say some among you that there is no resurrection of the dead? But if there be no resurrection of the dead, then is Christ not risen: And if Christ be not risen, then [is] our preaching vain, and your faith [is] also vain. Yea, and we are found false witnesses of God; because we have testified of God that he raised up Christ: whom he raised not up, if so be that the dead rise not. For if the dead rise not, then is not Christ raised: And if Christ be not raised, your faith [is] vain; ye are yet in your sins. Then they also which are fallen asleep in Christ are perished.
-1 Corinthians 15:12-18
Because JWs teach that Christ did not rise from the dead, these passages tell us clearly that Jehovah's Witness are false witnesses, that their faith is in a false concept of God, and all their preaching and tracts are vain. This is not something to take lightly. The most important part of all is verse 17 that tells us that
if Christ didn't rise from the dead, like JWs teach, then we are still in our unsaved in our sin
, and all those who have died are damned eternally, including Charles Russell, the founder of JWs.
To Jehovah's Witnesses: Why would you desire to remain in a church that is openly lying to its congregation about the truth of Scripture?
And when they bring you unto the synagogues, and [unto] magistrates, and powers, take ye no thought how or what thing ye shall answer, or what ye shall say: For the Holy Ghost shall teach you in the same hour what ye ought to say.
-Luke 12:11-12
According to the Watch Tower Society, the Holy Ghost referred to here is simply an "active force" of God, but not God Himself. And after we discussed how Jehovah's Witnesses do not believe Jesus Christ is God, any believer would immediately equate that JWs obviously do not believe in the Trinity.
"Satan is the originator of the trinity doctrine."
-Watch Tower Bible and Tract Society, Let God Be True, 1952, p. 101; See also 2012 edition, Literary Licensing LLC, ISBN: 9781258314736
"So the holy spirit is the invisible active force of Almighty God which moves His servants to do His will..."
-Watch Tower Bible and Tract Society, Let God Be True, 1952, p. 108; See also 2012 edition, Literary Licensing LLC, ISBN: 9781258314736
"It is the impersonal, invisible active force that finds its source and reservoir in Jehovah God and that he uses to accomplish His will even at great distances, over light-years of space..."
-Watch Tower Bible and Tract Society, Let Your Name be Sanctified, 1961, p. 269
Though we saw in Luke that "Holy Spirit" is in capital letters, which puts a proper noun of diety into the label, JWs always use lower-case letters when writing out 'holy spirit' or 'holy ghost' because of their removal of God-hood from the Spirit. "Forces," like gravity or wind, do not maintain knowledge and teach that knowledge, but JWs believe that on the Day of Pentecost, the disciples were filled with an 'active force' that they could use at will.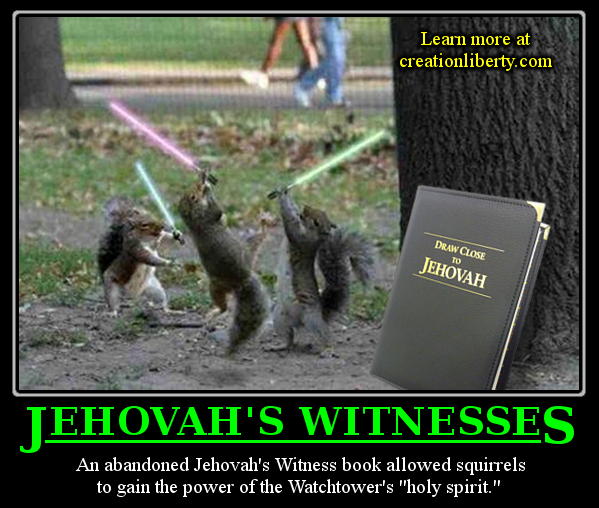 The Holy Spirit is God, just as Jesus Christ is God, and they are all one in three persons. How is that possible? I don't know that any man can answer to the full understanding of God, but I am also three persons in one. I am partially of my mother, partially of my father, and partially of myself, but I'm one person. I am a husband, a son, and a brother, but I am one person, and even though I am viewed differently as each role, I am still the same person. Nonetheless, whether or not we understand God being three persons in one, it is what the Scriptures teach us.
Paper, ink, and a book binding do not teach us, but the Words of God teach us, and likewise, forces do not teach us, but God Himself teaches us though His person, the Holy Spirit:
For what man knoweth the things of a man, save the spirit of man which is in him? even so the things of God knoweth no man, but the Spirit of God. Now we have received, not the spirit of the world, but the spirit which is of God; that we might know the things that are freely given to us of God. Which things also we speak, not in the words which man's wisdom teacheth, but which the Holy Ghost teacheth; comparing spiritual things with spiritual.
-1 Corinthians 2:11-13
In the Bible, love is a deep, intimate, selfless desire and/or sacrifice made for another. Can wind be loved? Can gravity be loved? Not by Biblical definitions. A force, like gravity, is not loved:
Now I beseech you, brethren, for the Lord Jesus Christ's sake, and for the love of the Spirit, that ye strive together with me in [your] prayers to God for me;
-Romans 15:30
A force, like gravity, is not grieved:
And grieve not the holy Spirit of God, whereby ye are sealed unto the day of redemption.
-Ephesians 4:30
A force, like gravity, is not blasphemed:
But he that shall blaspheme against the Holy Ghost hath never forgiveness, but is in danger of eternal damnation:
-Mark 3:29
A force, like gravity, does not give gifts:
He that hath an ear, let him hear what the Spirit saith unto the churches; To him that overcometh will I give to eat of the tree of life, which is in the midst of the paradise of God.
Revelation 2:7
A force, like gravity, does not speak at all, let alone in the first person:
And when they agreed not among themselves, they departed, after that Paul had spoken one word, Well spake the Holy Ghost by Esaias the prophet unto our fathers, Saying, Go unto this people... lest they should see with [their] eyes, and hear with [their] ears, and understand with [their] heart, and should be converted, and I should heal them.
-Acts 28:25-27
A force, like gravity, does not send out missionaries:
As they ministered to the Lord, and fasted, the Holy Ghost said, Separate me Barnabas and Saul for the work whereunto I have called them.
-Acts 13:2
A force, like gravity, is not lied to:
But Peter said, Ananias, why hath Satan filled thine heart to lie to the Holy Ghost, and to keep back [part] of the price of the land?
-Acts 5:3
I could give many more examples than this, but the point should be clear by now: The Holy Ghost is God, and is Jesus Christ, and the three are one. At this point, desperate JWs will attempt a claim that the Spirit can't be a person because it has no body, but neither does the Lord God (Jehovah).
God [is] a Spirit: and they that worship him must worship [him] in spirit and in truth.
-John 4:24
To Jehovah's Witnesses: Why would you desire to remain in a church that is openly lying to its congregation about the truth of Scripture?
Jehovah's Witnesses and the Watch Tower Society commonly give lip service to the Lord Jesus Christ's salvation by grace alone, but how the WTS operates is completely backwards to the doctrine of grace.
"We want to give deserving ones the opportunity to learn of Jehovah's undeserved kindness and the Kingdom hope."
-Our Kingdom Ministry, December, 1993, p. 7; See also David A. Reed, Answering Jehovah's Witnesses: Subject by Subject, Baker Books, 1996, p. 126, ISBN: 9780801053177
Please take a moment to consider this quote. Who decides if someone is deserving? According to JWs, the WTS decides if someone is deserving.
According to JW teaching, all those who will gain God's favor or friendship must be a "preacher," and that means they must do door-to-door evangelizing with JW tracts and other materials. In short, unless you are a Jehovah's Witness, approved by the Watch Tower Society, and you go door-to-door evangelizing, you will not be saved. In fact, in the end, the WTS claims that Jehovah will declare men to be righteous based on their integrity.
"The great crowd is tested as to the people's integrity, their continued faithfulness. The final test will result in Jehovah declaring them righteous."
-Watch Tower Magazine, Oct 15, 1985, p. 31; See also David A. Reed, Index of Watchtower Errors 1879 to 1989, Baker Books, 1990, ISBN: 9781585585878
If one asks a JW if they believe salvation is of grace, they will say, "Yes," but in reality, their church teaches that your salvation is based on what church you attend (i.e. you must attend a JW church), how much work you do for the WTS, and your level of integrity based on their standards.
"God has arranged for the 'good news of the kingdom' to be proclaimed so that each individual will have opportunity to work out his own salvation."
-Watch Tower Magazine, Feb 1, 1985, p. 5; See also David A. Reed, Index of Watchtower Errors 1879 to 1989, Baker Books, 1990, ISBN: 9781585585878
Therefore by the deeds of the law there shall no flesh be justified in his sight: for by the law [is] the knowledge of sin. But now the righteousness of God without the law is manifested, being witnessed by the law and the prophets; Even the righteousness of God [which is] by faith of Jesus Christ unto all and upon all them that believe: for there is no difference: For all have sinned, and come short of the glory of God; Being justified freely by his grace through the redemption that is in Christ Jesus:
-Romans 3:20-24
This is very clear that one's works cannot earn salvation, and that we are redeemed by the righteousness of Jesus Christ, not by our own righteousness.
And if by grace, then [is it] no more of works: otherwise grace is no more grace. But if [it be] of works, then is it no more grace: otherwise work is no more work.
-Romans 11:6
Salvation either comes by the grace of Jesus Christ, or it comes by your works, and the Bible clearly tells us that our works will not get us to heaven.
For by grace are ye saved through faith; and that not of yourselves: [it is] the gift of God: Not of works, lest any man should boast. -Ephesians 2:8-9
No amount of ringing door bells or handing out tracts can earn our way into heaven. We are instructed to do good works (
Eph 2:10
), and good works and sufferings can earn us reward in heaven (
Luke 6:21-23
), but we do not earn righteousness by our works.
For other foundation can no man lay than that is laid, which is Jesus Christ. Now if any man build upon this foundation gold, silver, precious stones, wood, hay, stubble; Every man's work shall be made manifest: for the day shall declare it, because it shall be revealed by fire; and the fire shall try every man's work of what sort it is. If any man's work abide which he hath built thereupon, he shall receive a reward. If any man's work shall be burned, he shall suffer loss: but he himself shall be saved; yet so as by fire.
-1 Corinthians 3:11-15
Once we repent and believe on the Lord Jesus Christ, He becomes our covering so that when God looks at us, He does not see us, He sees only the righteousness of His Son, and that is why, despite our works, we are still saved by Jesus Christ alone. But remember the Scripture above, that if it is works, it is no longer grace, and that means JWs openly reject the grace of Jesus Christ by claiming their works as bonus points to heaven.
"Some suggest that belief in Jesus is the end of the matter... Yes, there are various things involved in getting saved. We must take in accurate knowledge of God's purposes and his way of salvation. Then we must exercise faith in the Chief Agent of salvation, Jesus Christ, and do God's will the rest of our lives."
[i.e. the WTS's will]
-The Watchtower, Sept 15, 1993, p. 5-7; See also Robert M. Bowman, Jehovah's Witnesses: Issue 11 of Zondervan Guide to Cults & Religious Movements, Zondervan, 1995, p. 85, ISBN: 9780310704119
There are some new-age false doctrines that teach it is only belief in Jesus Christ alone that necessary, when
the Bible teaches that we must repent and believe
, but WTS does not acknowledge repentance here as one of the necessary steps in salvation of Jesus Christ, and then says that you must "do God's will" the rest of your life, meaning that you must do work in order to be saved.
"To get one's name written in that Book of Life will depend upon one's works."
-The Watchtower, Apr 1, 1947, p. 204; See also David A. Reed, Answering Jehovah's Witnesses: Subject by Subject, Baker Books, 1996, p. 208, ISBN: 9780801053177
Who hath saved us, and called [us] with an holy calling, not according to our works, but according to his own purpose and grace, which was given us in Christ Jesus before the world began,
-2 Timothy 1:9
"And while now the witness yet includes the invitation to come to Jehovah's organization for salvation, the time no doubt will come when the messages takes on a harder note, like a 'great war cry.'"
-Watchtower, Nov 15, 1981, p. 21; See also Edmond C. Gruss, The Four Presidents of the Watch Tower Society, Xulon Press, 2003, p. 60, ISBN: 9781594671319
Does the Bible tell us "come unto Jehovah's Witnesses and they will give you rest?" Should the heavy laden and all that labor come to the Watch Tower Society to take upon their yoke?
At that time Jesus answered and said... Come unto me, all [ye] that labour and are heavy laden, and I will give you rest. Take my yoke upon you, and learn of me; for I am meek and lowly in heart: and ye shall find rest unto your souls. For my yoke [is] easy, and my burden is light.
-Matthew 11:25-30
To Jehovah's Witnesses: Why would you desire to remain in a church that is openly lying to its congregation about the truth of Scripture?
Final Thoughts and Additional Reading
Christians, remember that God must give men repentance to acknowledge the truth. (
2Tim 2:25
) You will not convert a Jehovah's Witness from his/her position, but you can give them the truth of the Scripture, and though I only covered the basics of the many false teachings in the Watch Tower Society, there should be plenty in this article alone to address those JWs who visit your home.
Most Christians would tell JWs they need to convert and repent and get saved, etc, but I would rather urge JWs to just muse on (i.e. think about) the Scriptures I have quoted in this article. Just take them into your quiet time, read them over carefully, and think about them. Jesus Christ says that His sheep hear His voice (
John 10:27
), and if you are a part of His flock, He'll show you the truth Himself.
---
If you would like to get more information on this topic, here are some suggested materials to help you get started:
Answers To My Jehovah's Witness Friends
, Thomas F. Heinze
Chick Publications, 2011, ISBN: 9780758908452
Index of Watchtower Errors 1879 to 1989
, David A. Reed
Baker Books, 1990, ISBN: 9781585585878
(This author tends towards RSV, so be cautious.)